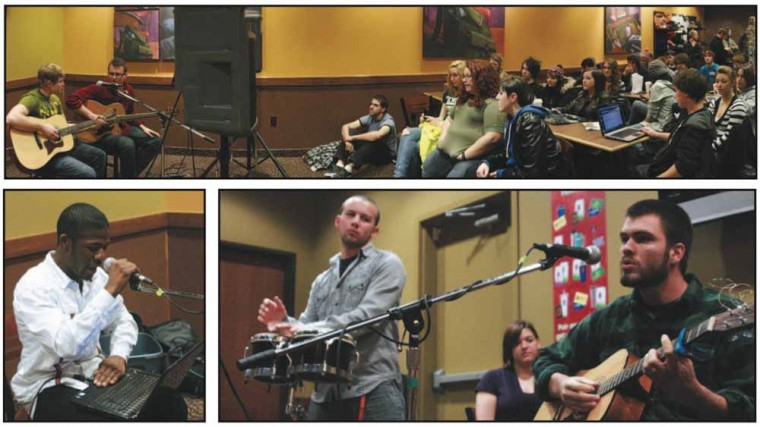 For those who find some of Music Industry Management Association's other musical productions too intimidating, FSU Unplugged might be a nice change of pace.
Every other Thursday night, performers come out to Biggby to show their stuff, with exhibits such as spoken word, original songs, and guitar covers of rap and hip hop favorites.
David Wilson, senior in MIMA, is in charge of booking the acts, and feels that amidst the laid back atmosphere, he's seen some promising performances amongst Ferris students.
"Every once in a while we will book out of town, but this year it's been all Ferris students. Last year we had some Grand Rapids acts come up. But we get some real talent running through every once and a while," Wilson said.
One of those rare talents is Evan Pazkowski, freshman in MIMA. Pazkowski has opened for Jeff Daniels and has taken seven years of guitar lessons and has been playing bass guitar for eight. Pazkowski incorporates the unique slap technique and harmonics that those who have seen the movie "August Rush" could recognize, incorporating these elements into performance of his original songs. But lessons couldn't teach him the skill itself.
"They taught me the ability to be creative, and I picked it up from there," Pazkowski said of what he calls the "slappity slap" playing. Pazkowski also performs covers of rap songs, such as R. Kelly's "Ignition" and Young Money's "Bedrock."
"I don't have a really good singing voice, so when I rap songs, people don't care how bad your voice is," Pazkowski said.
Another notable talent is Joey Cottle, junior in MIMA, who has a different background, starting his guitar playing and singing in his dad's youth ministry band when he was 15. Cottle now plays in the worship band at Res Life Church in addition to his Unplugged performances. Cottle's style differs too, playing more singer songwriter folk music, as well as original songs.
"I think FSU Unplugged appeals to people who truly enjoy music and who like to be on the edge and find new, cool music. I just love music. It's that one thing I can always come back to. Life's been kind of crazy for the last four years and music isn't," Cottle said.
Pazkowski believes the concert series is appealing because of the opportunity for interaction amongst performers and listeners.
"It's such a closed performance and you're able to connect with every audience member if they are willing to connect with you," Pazkowski said.
"It's just a good hangout environment. You can sit back, enjoy some music, coffee, and friends and hang out," Wilson said.
FSU Unplugged takes place every other Thursday from 6:30-8:30 p.m. For more information about FSU Unplugged or to participate, email FSUunplugged@nullgmail.com or check out the FSU Unplugged Facebook page.