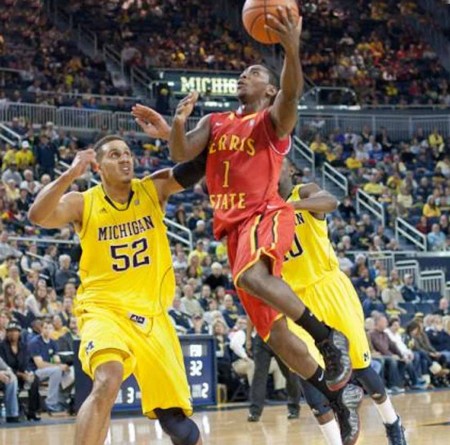 While many students travelled home to spend Thanksgiving break with their families, the Ferris State University men's basketball team remained in Big Rapids to host Olivet College and University of Wisconsin-Parkside in the Bulldogs first two home games of the season.
"Our main thing was to get a win and get us the confidence we need to go into the GLIAC season," senior guard Dontae Molden said. "We had to start somewhere, so we started with Olivet."
FSU defeated OC 82-46 Nov. 22 to pick up its first victory of the 2011-12 campaign. The Bulldogs started the season with losses to University of Michigan, Central Michigan University and Lewis University.
OC never led and the score was never tied in the contest as the FSU led by as many as 40 points en route to its first win. With the loss, OC fell to 0-4 on the season.
According to Molden, the team was relieved to finally win their first game of the season.
"We know every win won't be that easy," he said. "But it was definitely a confidence booster for us."
Junior guard Kenny Brown led FSU by scoring a game-high 24 points. In 27 minutes of action, he connected on six-of-seven three-pointers. FSU senior forward Jerrell Sanders added 17 points and six rebounds in the win.
The Bulldog bench outscored the OC reserves by a 29-4 margin as 10 of the 11 players who saw action scored. In the team effort, FSU recorded 17 assists, 10 steals and two blocked shots.
On the defensive end, the FSU held OC to just 28.6 percent shooting and forced 15 turnovers. FSU owned 42-35 rebounding advantage on the boards.
On Saturday, Nov. 26, the Bulldogs posted a 70-65 victory over regional powerhouse University of Wisconsin-Parkside. UWP entered the contest at 4-0 on the season following a one-point victory over GLIAC North Division favorite Michigan Tech University Tuesday night.
"It was a real good feeling to get that win," Molden said. "It shows that even though we're a young team, we can play with any team any night."
In the game which featured four lead changes, FSU held a 34-28 halftime edge, but with 11:41 left to play, the Bulldogs had to battle back from a 4-point deficit. FSU went on a 15-4 run to build a 57-50 lead with 4:42 left in the game. The run would suffice as the Bulldogs held on for the win despite back-to-back UWP three-pointers in the final minute.
Once again, Brown paced FSU. He tallied a game-high 18 points and was joined in double figures by Sanders (12 points), junior forward Daniel Sutherlin (14 points) and Molden (10). Sutherlin also contributed four blocked shots to go with a contest-best 15 rebounds, which included eight grabs on the offensive end, in his double-double effort
"We did a lot of good things in that game that we haven't done previously for a whole 40 minutes," Molden said.
By utilizing a full court press as well as a zone defense, the Bulldogs came up with 14 steals off 24 UWP turnovers which resulted in a decisive 28-10 advantage in points off turnovers. Sanders paced FSU with five steals.
With the win, the Bulldogs improved to 2-3 on the season as they continue to prepare for conference action to begin. FSU will take on Tiffin University Dec. 1in its first GLIAC matchup of the season. Tipoff is scheduled for 8 p.m. in Tiffin, Ohio.
"The losses we've had are behind us now," Molden said. "We need to keep improving each day in practice, so we'll be ready for GLIAC competition. We plan on doing the same thing we did last year and winning the conference."