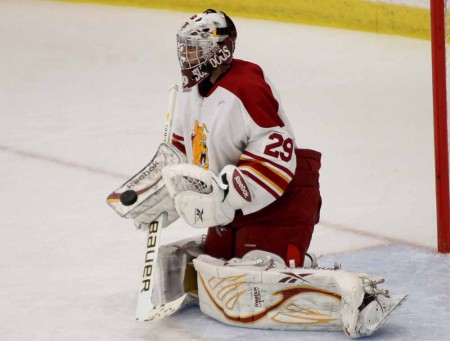 The season senior Ferris goaltender Taylor Nelson has put together may come as a surprise to some after he played limited minutes in his junior year.
Last season Nelson played in four games as he stepped aside while former Ferris goaltender Pat Nagle started 37 games to finish his senior year. During Nelson's freshman and sophomore season the two tenders split starts.
Nelson then served as Nagle's back-up goalie and earned only two starts during his junior year. Although Nelson wanted to be on the ice more last year, he did not let his limited minutes discourage him.
"Obviously it's tough on a guy. There will be lots of games where you don't actually see the ice, but it's your job to prepare yourself like you're playing in every game," Nelson said. "Your motivation is that at any point a door could open and that's your opportunity and you have to go out there and make that opportunity happen."
Nelson, a Saskatchewan native, began playing hockey around the age of four. Nelson's parents never pushed him to be a hockey player. Instead, it was Nelson's passion for the sport that kept him returning to the rink everyday. His parent's support was what kept him going.
"The amount of support that my family and friends have given me to pursue hockey and keep going is all part of the reason why I started playing hockey," Nelson said.
When Nelson first began playing hockey, he played half of his games as a defenseman and half as a goalie. Though any chance he could, Nelson would play more in net. He started playing goaltender fulltime when he was nine years old.
"It's hard to explain how you want to become a goalie. I think it's just an itch that someone gets," Nelson said.
Nelson's favorite players growing up were always goaltenders and he thinks that may have influenced his decision to become a goalie. Former NHL goaltender Felix Potvin inspired Nelson to choose his number, 29.
"A lot of people say that to be a goaltender you have to be a different breed of person. Often times goalies come off a little weird," Nelson said. "I'd like to think I'm a pretty normal guy but any time there's a slap shot being shot at you at 100 miles an hour, you start to question yourself."
Nelson's abnormalities have helped him rack up a 6-2-0 record this season.
"He's a goalie, so goalies are odd in their own way," senior center Jordie Johnston said.
Nelson's ability to defend the net has made him a 7th-ranked goaltender in the nation, according to U.S. College Hockey Online.
"He has always been a really good, solid goalie," Johnston said. "But I think he also has been putting in a lot of extra time looking at video and I think that has helped his game a lot."
Although Nelson is a senior, he is unsure of what he wants to do after he graduates with a marketing degree. He worked during the summer in a goaltending professional shop training young goaltenders this year, and found he enjoyed the experience.
Nelson said he liked teaching young goalies how to play the position and how to play the sport he loves to play. He also liked being able to help teach them responsibility, determination and discipline.
Nelson's ultimate goal is to continue playing hockey after graduation.
"All I really know is hockey," Nelson said. "Getting a chance to play professionally is ultimately what a guy works towards and I want to continue playing hockey."