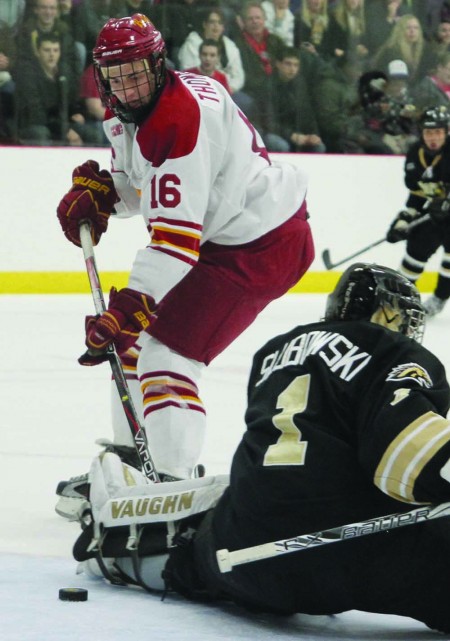 Ferris won five games without losing on its home ice before hosting Western Michigan University in a home-and-home series Dec. 2-3.
Ferris faced off against nationally 12th-ranked Western Michigan in Ewigleben Ice Arena Dec. 2. The Bulldogs scored first against Western but in the end FSU lost to the Broncos 4-2.
"I think we came out flat in the third period and Western is a good team that took advantage of that," senior center Jordie Johnston said. "It just shows that you have to play 60 minutes every night if you want to win."
The Bulldogs' goals came from junior leftwing Kyle Bonis and junior rightwing Matthew Kirzinger. Johnston assisted each goal.
Senior goaltender Taylor Nelson turned away 34 of the Broncos' 37 shots on him. The Broncos scored their fourth goal of the game on an empty net.
This season the nationally 6th-ranked Bulldogs have won eight of their games in which they scored first.
Western Michigan finished off its sweep of FSU on Dec. 3 with a 3-0 victory.
"These games that we played this weekend were as close to a playoff series without being in the playoffs," Nelson said.
Last season Western Michigan defeated Ferris in the quarterfinals of the CCHA playoffs.
Ferris is now 10-5-1 overall and 6-5-1-0 in Central Collegiate Hockey Association play. Ferris fell to fifth in the CCHA standings and has 19 league points to date.
Next up for the Bulldogs will be nationally 2nd-ranked Notre Dame in the two teams' first meeting of the season. Nelson said the team knows what to expect after the series with Western Michigan.
"You make one mistake and the puck could end up in the back of your net," Nelson said. "We can learn from this [Western Michigan] series, move into next weekend and come out and play like we know we can."
Notre Dame is currently in second-place of the CCHA standings. Notre Dame sports a 10-2-3-0 CCHA record and are 10-5-3 overall. The Fighting Irish have 24 points in the CCHA and are five points behind league leader Ohio State University. Nelson said after splitting with Alaska and being swept by Western, the team is hungry to get some wins.
"We have to get back to what got us to winning ways and that was playing hardnosed hockey," Nelson said.
Nonconference Northeastern University swept Notre Dame Dec. 2-3 and split its Nov. 25-26 series against Lake Superior State. Ferris has defeated Lake Superior this season 5-1 in Ewigleben Ice Arena.
The Fighting Irish will have to score on a nationally 3rd-ranked team defense that has only allowed 1.88 goals a game (U.S. College Hockey Online), in order to defeat the Bulldogs.
According to USCHO, Notre Dame is ranked 27th in the nation in both team offense and defense. Meanwhile, the Bulldogs have averaged 2.69 goals a game and are ranked 35th in the nation in team offense.
The two teams will begin their home-and-home series in Ewigleben Ice Arena on Dec. 9 at 7:05 p.m.
Ferris will then head to South Bend, Ind. Dec. 10 for their 7:05 p.m. match-up against Notre Dame.