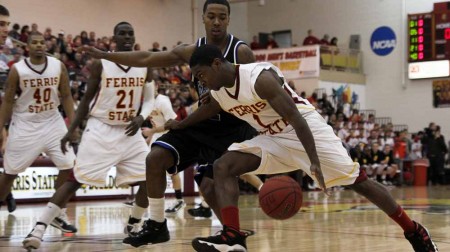 Ferris began Great Lakes Intercollegiate Athletic Conference play Dec. 1-3 with a road trip in Ohio, where they faced two GLIAC South Division teams.
The Tiffin Dragons of Tiffin, Ohio were the first team the Bulldogs faced in the GLIAC. Tiffin and the Bulldogs went into half time tied at 37 points.
Ferris then jumped to an 11-point lead in the first five minutes of the second half, which led to an 81-64 victory over Tiffin on Dec. 1.
Senior guard Dontae Molden willed his way to 19 points, four rebounds, and three assists against Tiffin. Senior forward Jerrell Sanders tallied 18 points with five assists and four rebounds.
"This road trip was a statement road trip to the other GLIAC teams that shows we are for real," Sanders said. "As defending champions, the target on your back is even bigger. Every game we play, no matter who we play, is going to be a struggle because every team wants to beat us."
The idea of grabbing the Bulldogs first win of GLIAC play drove Sanders and Molden's offensive performances, Molden acknowledged.
"The hunger to get a win on the road and win our first league game motivated the team," Molden said.
Ferris finished its road trip with a 69-60 win against Ohio Dominican University Dec. 3 in Columbus, Ohio.
The Bulldogs jumped to a 40-23 lead in the first half. ODU battled its way back into the game by posting 37 points in the second half. But the Bulldogs scored 29 in the second half to lead to their victory.
Junior guard Kenny Brown led the Bulldogs in scoring against ODU with 16 points. Junior forward Daniel Sutherlin recorded his third consecutive double-double with 14 points and 10 rebounds.
"The league games mean the most, and starting off 2-0 is great for us as a young team," Molden said. "We've got a lot of confidence and we're playing better now."
After defeating a pair of GLIAC South Division foes, the Bulldogs improve to 2-0 in the GLIAC and 4-3 overall. The Bulldogs have won each of their last four games.
The next time Ferris will face a conference opponent will be on Dec. 10 in their match-up against Northwood University at 6 p.m. inside the Bennett Sports Center in Midland.
"To repeat a championship, you have to win on the road as well as at home," Sanders said. "Every road game is a hostile environment. We just need to go in there and be focused."
Northwood is currently 1-1 in the GLIAC North Division and share the same overall record as the Bulldogs. Northwood's only GLIAC loss is to Findlay University.
Ferris faced nonconference Alma on Dec. 6. Due to production times, the score could not be reported.