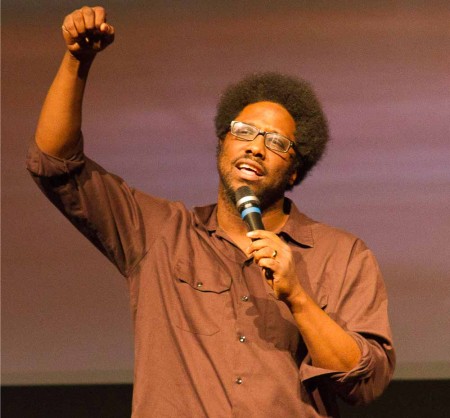 It's not everyday students attending a school function hear the "n-word," much less coming from the stage.
However, those who attended 5-star comedian W. Kamau Bell's presentation on Dec. 1 in Williams Auditorium were in for a surprise. His candid speech and frank discussion about race kept students laughing, but also forced them to confront some touchy topics.
Bell travels to colleges performing his presentation entitled "The W. Kamau Bell Curve: Ending Racism in About an Hour." His presentation provides an honest and straightforward look at what racism is, where it comes from, who is affected and how to stop it.
Evan Pazkowski, FSU freshman in MIMA and main contact for the event, expected a favorable response and good turnout for the show. Pazkowski was not concerned with people being offended, as Bell addressed stereotypes regarding many different races.
"He insults everyone and tells you how to get better," Pazkowski said. "He's great with the audience."
Many people showed up to see Bell's presentation, and he kept them laughing.
FSU student Keith Knapp, a junior in social studies education, enjoyed Bell's humor and thought the comedy made racism a more approachable topic.
Justin Price, FSU senior in pre-medicine, said he was surprised to learn the technical definition of "white." According to Bell, people from the Middle East and North Africa, among others, are white, so celebrities such as Snooki and Kim Kardashian are considered white. This challenged views Americans have regarding those of Arab descent, as they are white, but are the victim of stereotypes and judgment.
However, not everyone agreed with Bell's presentation method. Bryan Smith, FSU senior in television and digital media production, thought that although some of the jokes were funny, some were not appropriate for such a sensitive topic.
"I felt it was more comical than trying to break barriers," Smith said.
However, Smith did agree with Bell that racism is something we create ourselves.
"People identify themselves with a race based on culture and how they were raised and what they were taught to believe," Smith said.
FSU student Alexandra Carhart, freshman in business administration, thought controversial presentation methods have both good and bad aspects. She said too much controversy can offend people, but it is good to get people talking.
"It's a good thing because you hear his point of view on [racism]," Carhart said. "It's not like he's changing anything, so you'll be satisfied."
Entertainment Unlimited, the campus programming board sponsored W. Kamau Bell's presentation.