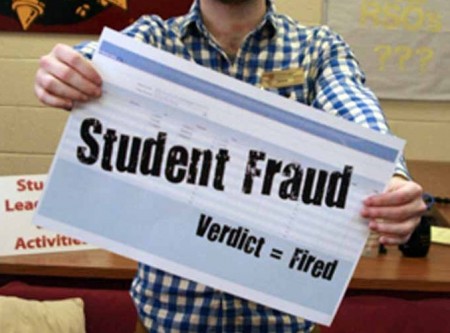 Students are paying record high tuition in order to be able to attend college.
However, it seems some of this tuition money may not be going to the best of use. It was discovered some FSU student employees have been falsifying their hour logs in Kronos in order to earn money for hours they did not work.
Manager of Student Employment John Randle reports that half a dozen students were caught in a single pay period logging hours they had not worked, some of them defrauding the university for up to $700. The students were all promptly terminated, this being a recent outbreak of a problem that has been going on across campus for some time now.
The recent outbreak is only one in a long series of students falsely reporting their hours.
"It's cyclical," Randle said. "You'll have an incident and it will get caught and you won't have another problem for a couple of years. It seems easy to get away with this in Kronos, but students don't realize there are things built into the system to detect this sort of behavior."
He added that student employment was working with computer people to help detect more false hours but couldn't release the finer details.
Randle is hopeful that this cooperation will be proactive in catching students who think they can get away with stealing money from the university and prevent this behavior in the future.
The falsely logged hours can't be tied to any particular department on campus. However, it is common to see the incidents linked with the guilty students sharing some sort of relationship with one another as coworkers, roommates or friends.
FSU pharmacy student Stephanie Davis said it seems inevitable student workers would be punished for falsifying Kronos hours.
"It's dumb. You're going to get caught sooner or later. It's being dishonest and it's causing problems for students who are being honest with their hours," Davis said.
Randle emphasizes the excellence that Ferris State University has seen in its student employees and stresses these actions should not be seen as typical of student employees here at Ferris.
Randle said, "Ask any one of our supervisors and they'll tell you we have some of the best student employees we could ever ask for."
"Overall there have been very few problems with our student employees; this is just a very small group and their behavior will not be tolerated here at Ferris," Randle said.