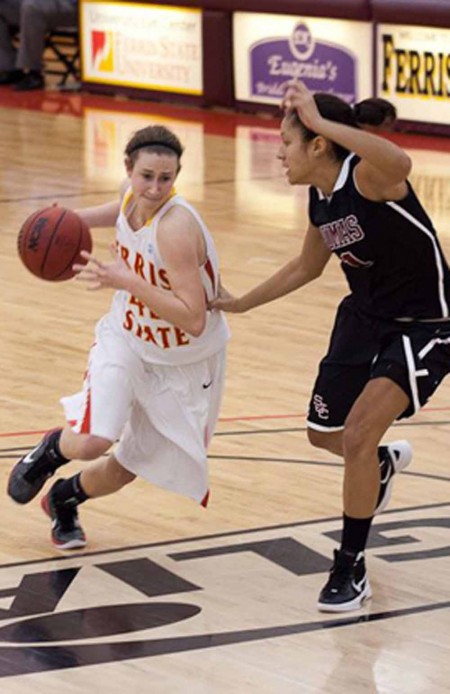 As the 2011-12 women's basketball team hits the half-way point in the season, the Lady Bulldogs are living up to their lofty pre-season expectations.
The Bulldogs improved to 8-4 overall with a 6-1 conference record after last week's road victories at Lake Superior State and Saginaw Valley State.
Last Thursday, Ferris State University took its basketball show to Sault Ste. Marie as the Lady Bulldogs cruised past the pesky Lakers.
The game was close throughout as the Bulldogs held a miniscule one point lead at the half, and with 12:31 remaining the game was still in jeopardy with the Bulldogs holding the scoring edge 43-42.
During the final twelve minutes Ferris Statue University amped up their efforts and eventually scored the final eight points of the contest to bring the final score to 65-56, in favor of the Bulldogs.
"We have been moving the ball really well and have really worked hard," FSU senior guard Tricia Principe said. "The defense has been playing good and we've done a very good job executing our offensive game plan."
Leading the way for the Bulldogs was freshman forward Christina Branch as she recorded a coveted double-double with twelve points and eleven rebounds. Also recording twelve points for FSU was junior guard Kylie Muntz and sophomore forward Nikki Arner.
Two days later the Bulldogs traveled down to the valley to take on the Cardinals of Saginaw Valley State, which the Bulldogs have been winless since 2004.
The streak was snapped as the Bulldogs cruised to a convincing 66-48 victory, while sophomore guard Sarah DeShone stole the show with an outstanding 31 point performance. However, it turned out the Bulldogs defense was the key to victory.
The Cardinals were held to a 31.9 shooting percentage and made only 15 field goals throughout the entire contest.
With the consecutive victories they maintained, the Bulldogs lead in the GLIAC North division with an impressive 6-1 mark. The Bulldogs' closest competitor is Michigan Tech, who is still behind FSU by 1.5 games with a 4-3 record.
"We feel like we are right where we need to be at, every game just builds more confidence throughout the entire team," Principe said.
The Bulldogs' main focus going into the 2011-12 year was to win a GLIAC championship and they are still maintaining that attitude.
The attitude, according to Tricia Principe, is still the key.
"We feel as if we win the GLIAC championship, everything else will just fall into place going into the NCAAs," Principe said.
FSU's women's basketball team plays Urbana University on Jan. 11 before continuing conference play with a home game against Northwood University on Jan. 14.