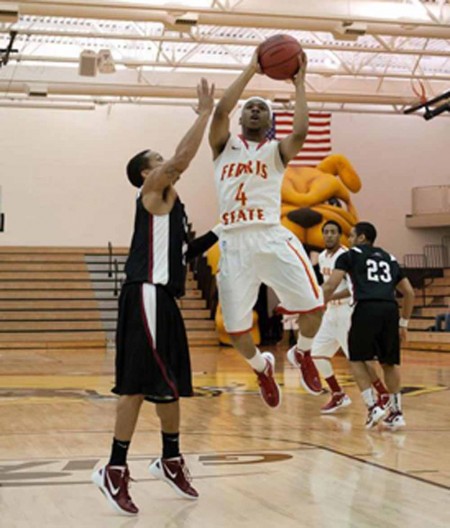 The Ferris State University men's basketball team played two very different second halves against Saginaw Valley State University and Lake Superior State University. The different halves resulted in different outcomes: one win and one loss.
FSU allowed SVSU to utilize a big second half as the Cardinals defeated the visiting Bulldogs 79-59 Saturday.
"We just came out flat," FSU senior guard Dontae Molden said. "Watching the tape, we didn't have enough energy from the start. I can honestly say we got outplayed."
SVSU held a slim 26-23 halftime advantage but recorded 53 points in the second half on 14-of-17 shooting to hand FSU its second league loss of the season. The Bulldogs were limited to 36.4 percent shooting for the game and made just one three-pointer in the second half despite 12 attempts.
"We need our defense to play well in order to create our offense," Molden said. "Our defense was stagnant, and it hurt us."
Junior guard Kenny Brown, who was the only Bulldog player to reach double-digit scoring, led FSU with a game-high 23 points. Senior forward Jerrell Sanders total seven points and six rebounds for the Bulldogs before he fouled out after 25 minutes of action. Freshman guard Drew Lehman tallied eight points for FSU, and junior forward Daniel Sutherlin added a game-high eight rebounds.
With the setback, the Bulldogs fell to 8-6 overall and 5-2 in conference play. The Cardinals improved to 5-7 overall and 2-4 in GLIAC action.
"We need to stick to our game plan and do the little things. We need to show more energy for the full 40 minutes," Molden said. "We're getting away from that, and it's hurting us on the offensive and defensive side."
Saturday's loss at SVSU followed a comeback win Thursday over Lake Superior State University. FSU rallied in the second half to defeat the host Lakers 64-58 despite trailing by as many as 14 points in the first half. The Bulldogs outscored LSSU 39-27 in the final half after being down 31-25 at the break.
"It was two evenly-matched teams," Molden said. "We played hard, and they played hard."
Brown led FSU with 21 points. Sanders added 16 points and three blocked shots while Sutherlin contributed 13 points and 12 rebounds in a double-double effort. Molden had seven assists and two steals for the Bulldogs.
FSU will return to action Saturday as the Bulldogs are set to host Northwood University with tipoff scheduled for 3 p.m. The Timberwolves are currently 7-5 overall and 3-3 in conference play. They recently defeated Grace Bible College 73-63 in a non-league contest and are scheduled to play Grand Valley State University Jan. 11. Senior forward Bobby Lewis leads NU's scoring attack with his 16.3 points per game average.
"We're going to have to play aggressive," Molden said. "We're going to have to play him [Lewis] tight when he does and doesn't have the ball. Jerrell [Sanders] had a good game [guarding Lewis] last time, so he'll probably matchup with him again."
The Bulldogs faced off against the Timberwolves Dec. 10 with FSU coming away with a narrow 69-64 victory. Brown led the Bulldogs with a game-high 29 points as FSU rallied from a 21-point second half deficit to defeat NU on the road. Lewis scored 17 points for the Timberwolves.