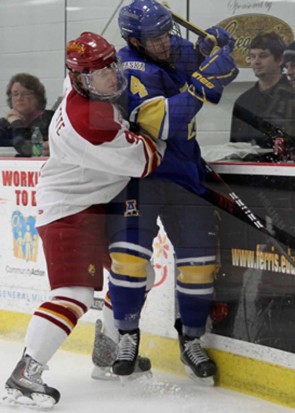 Ferris State University has come back from winter break winning three of their last four games. They'll now prepare to face nationally 2nd-ranked Ohio State this weekend.
The Bulldogs made their return to conference play against the Alaska Nanooks Jan. 13-14 at the Ewigleben Ice Arena in Big Rapids.
"It's nice to get back and play in front of your home fans and play at home," Ferris senior center Jordie Johnston said. "It'd be perfect if you could play every game at home."
The series began Jan. 13 with a 4-4 tie between the Bulldogs and Nanooks. After overtime, the Nanooks managed to snag a shootout win over the Bulldogs. Ferris earned a league point from the tie. Though the Bulldogs did not win the shootout, Johnston said it was more frustrating failing to capitalize in regulation.
In the series finale, Jan. 14, Ferris received multi-point efforts from junior forward Matthew Kirzinger and sophomore forward Garrett Thompson in their 4-3 win over Alaska.
"We were hoping to come out with six points, but basically a tie and a win is not a terrible weekend by any means," Johnston said.
Johnston tallied his 13th goal of the season in the final bout against the Nanooks. Johnston leads the squad in scoring with 21 points this season. Johnston has generated seven points (5G, 2A) for the Bulldogs since the return from break.
"My line mates and I are really starting to click," said Johnston.
Ferris senior defenseman Chad Billins gave the Bulldogs a 2-1 lead in the second period with his goal. Kerzinger netted a goal of his own in the third period. Thompson made the game-winning goal.
Despite being outshot by the Nanooks 28-20, the Bulldog's senior net minder Taylor Nelson managed to improve his record to 10-4-1.
Ferris has yet to lose since returning from break, winning 3 of its last four games.
The Bulldogs are 8-6-2-0 in the Central Collegiate Hockey Association and 14-8-2 overall.
Ferris will next play against Ohio State University Jan. 20-21 at Columbus, Ohio. Ohio State is currently leading the CCHA with 34 points. OSU owns a 10-4-3-1 conference record.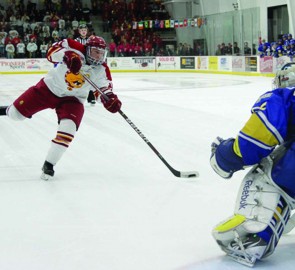 "Any time you play a good team like that, everybody gets up for it," Johnston said. "That's really when you find out what your team is made of when you play a hard opponent like OSU."
According to U.S. College Hockey Online, Ohio State is nationally 5th-ranked in team defense. The Bulldogs are not far behind the Buckeyes at 8th-ranked.
"They're going to be a really good opponent," Johnston said. "When we're at our best, we're defensive."
Ohio State will rely on senior goaltender Cal Heeter to help defend the net from the Bulldogs. Heeter holds the fifth best save percentage in the league at .932 in 19 games.
Ferris freshman C.J. Motte holds the 13th best save percentage in the nation, .925. After 15 games this season, Nelson holds a .923 save percentage and is nationally 14th-ranked.
The Bulldogs will look to limit the number of penalty minutes they receive against them. Ferris is among the leaders of penalty minutes against, averaging just over 17 minutes a game in the box.
Ferris will be facing an OSU team that converts on nearly 20 percent of their power play opportunities.
The two teams will meet on Jan. 20 and the puck will drop at 7:05 p.m. in Columbus.