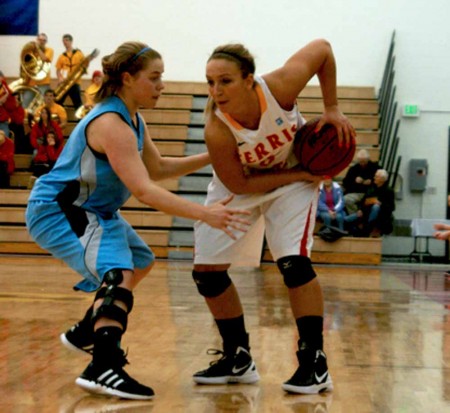 The Bulldogs have compiled a 7-1 conference record up to this point of the season.
The Bulldogs came back to Big Rapids to face non-conference foe Urbana University on Jan. 11. Ferris' defense kept Urbana under 50 points and forced them to shoot 30-percent from the field, while the Bulldogs went on to win 82-47. The game featured 10 steals, 48 rebounds, and 25 points scored off of turnovers for the Bulldogs.
After defeating Urbana, the Bulldogs went on to resume conference play Jan. 14 against Northwood University.
Northwood challenged the Bulldogs' winning streak, but failed to defeat the Bulldogs. Ferris earned a 78-44 victory over the Timberwolves.
Ferris secured a 40-20 lead by halftime and coasted its way to the victory in the second half. Four Bulldogs reached double-digit scoring in the match.
Ferris sophomore guard Sarah DeShone led the Bulldogs with 18 points, while senior guard Kelsey DeNoyelles put up 14 points for the Bulldogs.
The Bulldog defense forced 23 turnovers that led to a 29-9 advantage over the Timberwolves in points off of turnovers. Ferris also limited Northwood to 26.5-percent shooting from the field.
Ferris improved its conference record to 7-1 in the Great Lakes Intercollegiate Athletic Conference North Division. The Bulldogs are 10-4 overall.
The Bulldogs are now on a four-game winning streak since returning to campus.
Ferris will face Michigan Tech on Jan. 19 at 5:30 p.m. in Houghton. The Bulldogs own a one-game lead over Michigan Tech in the GLIAC North Division. The Bulldogs have defeated Michigan Tech once this season. The Bulldogs are 4-1 on the road in the GLIAC.
"It's always tough playing at Tech and going to the UP," Principe said. "If we play how we know we can, we should be able to get the win."
Michigan Tech is nationally 18th-ranked according to USA Today/ESPN Coaches. Michigan Tech is 7-3 in the GLIAC.
"Against Michigan Tech, it's really going to all come down to playing fundamentally sound defense," Principe said. "If we can get stops, then everything on offense will take care of itself."
Ferris will round out an Upper Peninsula road trip with a game against Northern Michigan Jan. 21 at 1 p.m. in Marquette.
"We need to have a really good week of practice and make sure we stay focused," Principe said.
Ferris defeated Northern Michigan at home earlier this season. Northern is currently 2-6 in the GLIAC North Division.