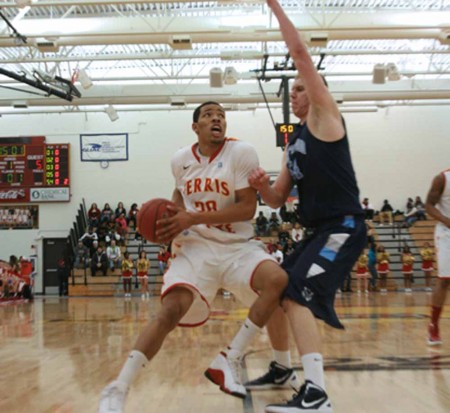 Fans were treated to an extra five minutes of Bulldog basketball as the Ferris State University men's basketball team defeated Northwood University 74-69 in overtime Saturday afternoon at Jim Wink Arena.
The conference win moved the Bulldogs into a share of first place in the divisional standings. FSU improved to 9-6 overall and 6-2 in GLIAC action this campaign.
The contest featured three lead changes and the score was tied four times. One of the ties came at the end of regulation play when NU's Cameron Joyce drove the length of the court and banked a shot in to force the game into overtime.
"We knew that in overtime we would have less room for errors," FSU junior forward Daniel Sutherlin said. "We had to cut down on turnovers and play a crisp game to get the win."
Sutherlin took control for FSU during the five-minute overtime period. After the Timberwolves cut FSU's lead to just two points, Sutherlin slammed home a missed layup from junior guard Kenny Brown. With less than 15 seconds to play, Sutherlin completed a three-point play to push the Bulldogs' lead to six points. FSU held on for the win as the clock ticked down and NU could not get closer than three points.
"We trust each other a lot more [than in the beginning of the season], and we've really built some team chemistry," Sutherlin said. "Even though it's still early in the season, we've faced adversity and it's made us a stronger team overall."
Leading the Bulldogs was Brown with a game-high 25 points. Sutherlin contributed 17 points and nine rebounds in the winning effort. Senior forward Jerrell Sanders totaled 15 points, seven rebounds, four assists, and two steals while senior guard Dontae Molden added 11 points and six rebounds.
The victory was FSU's ninth in its last 12 contests. The Timberwolves fell to 8-6 overall and 4-4 in conference play. The Bulldog defense held NU's leading scorer senior forward Bobby Lewis to just 5 points in 36 minutes of play. Prior to the contest, Lewis was averaging 16.3 points per game.
"It [defending Lewis] was definitely one of the main points of focus in the week's practices," Sutherlin said. "Jerrell [Sanders] did a really good job focusing in and not letting him get what he wanted."
Next on the schedule for FSU is a road trip to the Upper Peninsula to take on Michigan Tech Jan. 19 and Northern Michigan Jan. 21. Thursday's game against the Huskies will determine sole possession of first place in the GLIAC North Division standings. The two teams faced off Dec. 18, and MTU came away with a 77-64 victory.
"This is a huge game," Sutherlin said. "Every game from here on out is a huge game, but this one is especially because it is for first place."
MTU is 8-7 overall and 6-2 in conference play. The Huskies were recently defeated by Saginaw Valley 77-71 in an upset win for the Cardinals. MTU is led by junior forward Ali Haidar who is averaging 19 points per game this season. Haidar scored a career-high 36 points against SVSU.
"We're going to need to make somebody else [aside from Haidar] beat us," Sutherlin said.