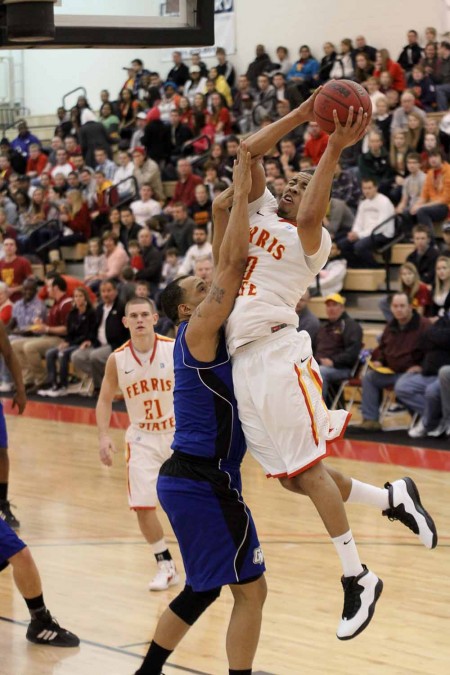 The hockey series wasn't the only big event happening in Big Rapids this past weekend, as the Ferris State University men's basketball team hosted a tough Grand Valley State University squad in conference action.
The Bulldogs took on the Lakers for a chance to take the reins of first place in the GLIAC North Division, and they accomplished just that. After earning a comfortable 11-point lead at half time, the Bulldogs strolled to a 65-57 win at Jim Wink Arena.
"It was indescribable [to win]. We prepared all week long, and it felt so good to win and see that preparation pay off," junior FSU forward Daniel Sutherlin said.
Leading the way for the Bulldogs were the duo of junior guard Kenny Brown and senior guard Dontae Molden who both scored 18 points. Senior forward Jerrell Sanders added 11 points and a team-high 7 rebounds.
"The key to the game was that we really defended well," Molden said. "We didn't turnover the ball and with that it helped us to force a lot of turnovers."
This signature victory over a battle-tested Lakers squad is a big step toward winning the GLIAC North Division.
"We were really pumped up," Molden said. "To get a win over a rival in probably our biggest home game of the year–it was incredible."
FSU raced out to an 11-2 margin in the early stages of the game and never looked back as they were never on the wrong side of the scoreboard throughout the entire game. The Bulldogs also held a significant 9-point edge in points off turnovers which was one of the main statistics in determining the winning team.
What's on the horizon for the Bulldogs' basketball team?
They continue on with four straight home games to try and grip a tighter hold on first place in the GLIAC North
"We're trying to stay in first place, and and we're trying to take care of business with our home games," Molden said. "After that we want to win the tournament because we fell short last year, and I feel we have just as good of a chance to win the tournament as last season."
Next up for Ferris State University are two home games against Lake Superior State University and Sagniaw Valley State University on Feb. 2 and Feb. 4 respectively.
The Bulldogs look to establish themselves as a clear-cut winner in the GLIAC North going for their second straight division title, and with the win against the Lakers of GVSU, the Bulldogs are in the driver's seat.