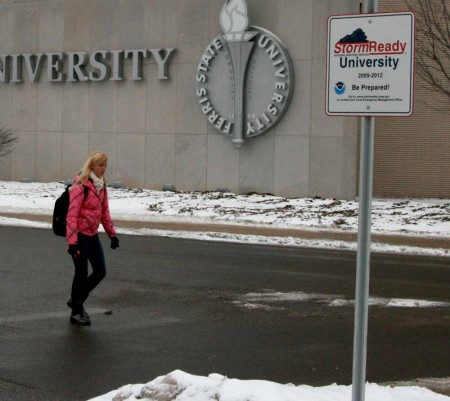 Big Rapids is no stranger to snow and cold weather. It comes as no surprise to anyone to see campus being pounded with snow and ice this year just as it has been in years past.
At the entrance to campus sits a sign indicating that Ferris is a storm-ready campus recognized by the National Weather Service. The website for the National Weather Service describes a "storm-ready" institution as one which "uses a grassroots approach to help communities develop plans to handle all types of severe weather."
While Ferris may have gained recognition from this governmental agency, some wonder how storm-ready Ferris really is in regard to harsh winter weather. A question arises if Ferris should close campus for safety purposes until it can ensure all sidewalks have been plowed and salted.
"I think they do a nice job overall keeping the sidewalks clean," Matt Holt, a first-year pharmacy student, said. "But it's pretty bad in the morning when you're going to 8 a.m. classes. I don't think they need to cancel classes due to the conditions, but it would be nice if they'd ease up on the late policy when the weather is so bad."
Chief Martin Bledsoe, director of the Department of Public Safety, said the rule of thumb for closing campus due to snow is "when the volume and duration of snow is so great that campus feels incapable of removing it. We're also sensitive to hazardous weather conditions just outside campus."
"Campus is plowed any time it needs it," Bledsoe continued. "There's a joint effort between DPS and the power plant in monitoring campus' weather conditions. When it's determined plowing needs to be done, we do it or call in reinforcements to ensure it gets done."
"I know the guys that plow the sidewalks and they spend their early mornings getting as much done as they can as fast as they can," Sarah Steinke, a senior in computer information systems, said. "With the resources we have they are doing a good job. We shouldn't close campus, students paid good money to go to class; they can handle a little ice. It's Michigan, come prepared."
"It is important for individuals to take responsibility about whether or not they feel safe traveling in certain conditions," Bledsoe said. "We have to look out for ourselves, safety needs to be balanced between the responsibility of the individual and the institution."
Even if classes aren't cancelled, students shouldn't risk their safety if they feel it is too dangerous for them to try and get to class due to weather.