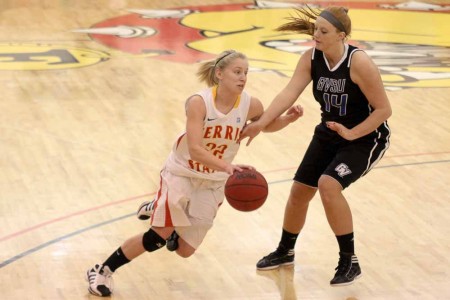 The Bulldogs are running away with GLIAC North Division and aren't looking back.
The Ferris State University women's basketball team defeated Grand Valley State University 58-50 to claim its seventh consecutive victory of the season. With the victory, the Bulldogs improved to 13-4 overall and 10-1 in conference play. FSU now holds a commanding lead in the GLIAC North Division standings.
"We had to have confidence in what we know we can do," sophomore FSU guard Sarah DeShone said. "We had a good week of practice, and I think that really helped build our confidence. We just stuck to our game plan, and it worked out."
The Bulldogs held a narrow three point lead at the break after the Lakers had a late first half scoring surge to make it 28-25 at halftime. GVSU continued its run to start the second half, but FSU fought back and led by eight point with 3:11 left in the contest.
"We just never hung our heads," FSU head coach Tracey Dorrow said. "We just tried to consistenly make it tough [for GVSU.]"
After a threatening pair of Laker free throws with 1:42, DeShone sunk a jumper to push the Bulldogs' lead back to five points. FSU followed with a defensive stop and clenched the victory by making five free throws in the final 40 seconds.
DeShone led the Bulldogs with a game-high 21 points. Senior guard Tricia Principe added 13 points. Both guards made nine free throws each as FSU made 25-of-34 tries from the charity stripe.
The Bulldog defense limited the Lakers to just 31.1 percent shooting and recorded one blocked shot and five steals. In addition, FSU owned a 35-38 rebounding advantage. Bulldog sophomore forward Nikki Arner and freshman Christina Branch totaled seven rebounds each.
With the loss, GVSU fell to 9-10 overall and 6-6 in league action.
FSU will return to action Feb. 2 as the Bulldogs host Lake Superior State University. The Lakers are 7-12 overall and 3-9 in conference play.
"It always feels great to be on top, but we know we have a lot of work to come," DeShone said. "There are a lot of big games to come."