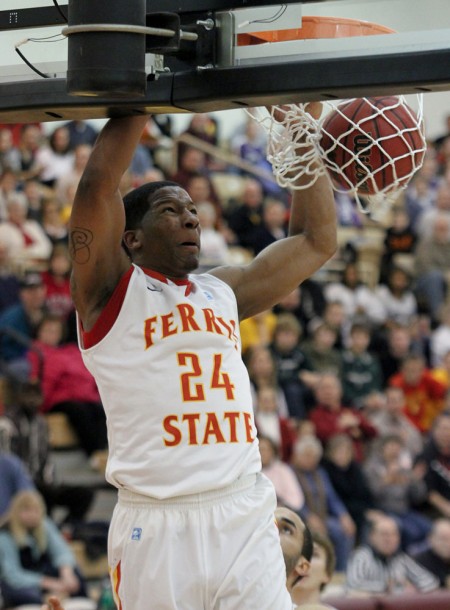 The Bulldogs survived 17 lead changes as they outlasted Saginaw Valley State University Saturday afternoon and pulled out 64-59 victory over the visiting Cardinals.
"It comes down to either it's yours to win or yours to lose," FSU men's basketball head coach Bill Sall said. "We made a couple of great stops to win the game."
FSU scored the final five points of the contest to remain in first place in the GLIAC North Division standings with six games left in the regular-season. With the win, the Bulldogs improved to 13-7 overall this campaign and 10-3 in GLIAC action. FSU now holds a game and a half lead over Michigan Tech University atop the division standings. On the other side, SVSU fell to 10-11 overall and 6-8 in conference play.
Saturday's victory avenged a 79-59 setback to the Cardinals earlier this season. Junior forward Daniel Sutherlin led the way for the Bulldogs as he scored a game-high 21 points while SVSU held FSU's leading scorer junior guard Kenny Brown to just three points. Picking up the slack was FSU freshman guard Dietrich Lever who contributed 13 points in breakout fashion.
"Coach [Sall] put confidence in me, so I took the shot like I was going to make it every time," Lever said. "They [the shots] started to fall."
FSU also received a team-high eight rebounds from senior forward Jerrell Sanders. Sanders added six points and seven blocked shots as well. His seven blocks was one shy of tying the school record set last season by former Bulldog standout Lou Williams.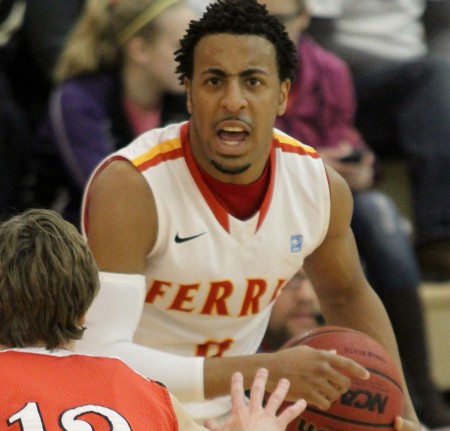 Saturday's victory over the Cardinals was preceded by a 73-64 win over Lake Superior State University. FSU managed to hold off a late game surge by the Lakers despite poor second half shooting (33.3 percent). The Bulldogs knocked down five free throws in the final 30 seconds of play to shut the door on the LSSU comeback. The Lakers fell to 10-10 overall and 5-8 in league play.
Senior guard Dontae Molden paced FSU with a team-high 20 points, and junior guard Kenny Brown added 16 points. Sanders tallied 11 points while Sutherlin recorded a contest-best 11 rebounds.
"We're getting scoring from a lot of different people and that really helps," Sall said.
FSU will conclude its five-game homestand by first hosting Lake Erie College Feb. 9 followed by Ashland Feb. 11. The contest against LEC is scheduled to tipoff at 8 p.m. while Saturday's game against AU is set for 3 p.m.
"Every time you win a championship a target goes on your back, and we're trying to defend that," Sanders said. "We're on a roll here so every team is giving 110 percent. With the group of guys we have, we're just finding ways to fight and keep fighting to pull out the wins."