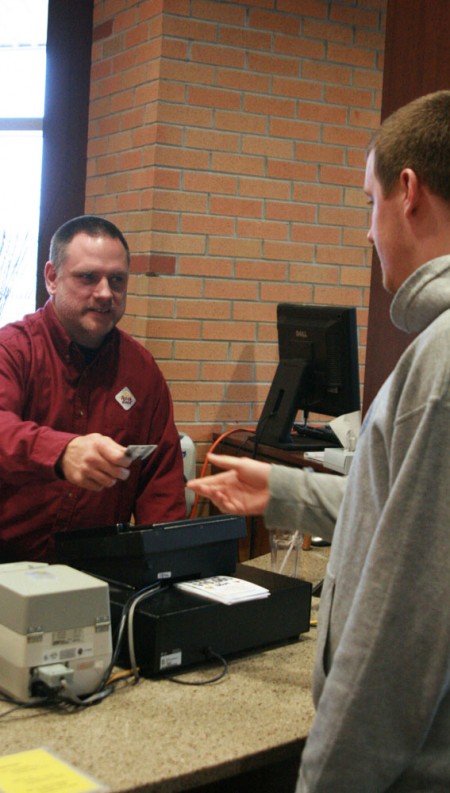 "You know, what can you say? It's one of the nicest things anyone can do for you," Marty Osterholzer, cashier at the Rock, said–his voice filled with sincerity.
Osterholzer made this comment referring to a large number of people who participated in a kind act of support for the disabled man.
As a complete surprise for Osterholzer, administration workers, students and even people from his church teamed up and donated money in order to purchase a scooter for him.
Money was raised around campus, within residence halls and other places and then given to First United Methodist church in Big Rapids, where it was combined with money raised there for Osterholzer.
The scooter was then purchased and given to Osterholzer in November. The idea of the scooter was to help Osterholzer move around faster and for easier mobility.
"It was a complete surprise for me. Someone had told me that the students had done it and were chipping in money," Osterholzer said. "Some of the students came up to me and told me they had donated money and they were glad to do it. I think it's a really honorable and beautiful thing they did."
Before Osterholzer received his new scooter, he used one that he had purchased on his own. While using his old scooter, he had gotten hit by car last summer while crossing a driveway. He explained he is pleased with his new scooter; it sits higher and is much more visible to people.
"The gratitude is heartfelt, and I want people to know if there is anything that I can do to help them, I would like to," Osterholzer said.
Osterholzer currently works at the Rock Café as a cashier and has been an employee there for six and a half years. He also attended Ferris State University and was a student worker at the Rock. In total, he has been a loyal employee for 12 to 14 years.
Since Osterholzer was born, he has had Cerebral Palsy. This is a disorder that is described as loss or impairment of motor function. According to Ncbi.Gov, it can affect body movement, muscle control, muscle coordination, posture and balance.
Although Cerebral Palsy is not an easy thing to live with, Osterholzer is positive and grateful for the support shown in the community.
"Bulldog pride has really shown itself. It shows there are a lot of caring people out there, especially on our campus. It was just really nice what everyone did," Osterholzer said. "People who don't have a tremendous amount of money and those who have sacrificed a lot to go to school — whatever little amount they put in there, I know it's from the heart, and they are appreciated from my heart."