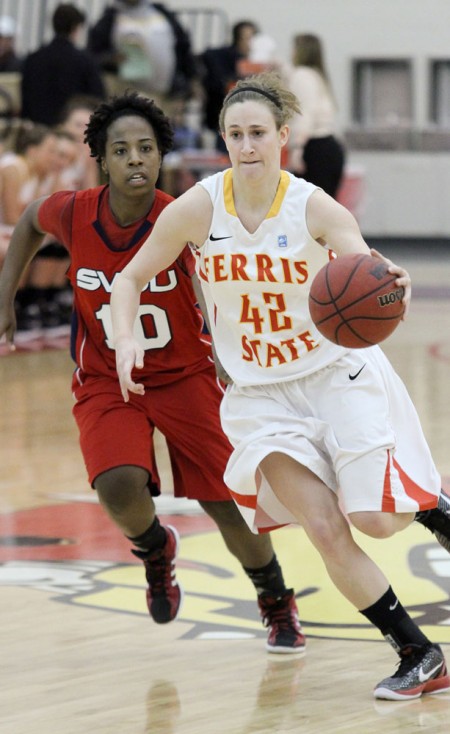 Ferris State flew by two Great Lakes Intercollegiate Athletic Conference North Division foes over the weekend to increase their win streak to nine games.
The Bulldogs sit atop the GLIAC North Division at 12-1 and are 15-4 overall. Ferris is the second-best team in the GLIAC conference overall.
A 75-56 victory over Lake Superior State University on Feb. 2 at the Jim Wink Arena added momentum to the Bulldogs streak as they prepared to face Saginaw Valley State Feb. 4 at 1 p.m. at Jim Wink Arena.
Ferris then went on to defeat SVSU 81-57. The Bulldogs led 33-26 by the break. Ferris then jumped to a 17-4 run to control the second half and led by 22 only 5:08 into the frame. Ferris' biggest lead was 30 points with 2:14 left to play.
Five Bulldog players managed to reach double-figure scoring with senior guard Tricia Principe's team-best 13 points leading the way. The Bulldogs bench scored 33 points against the SVSU Cardinals.
"Coming off the bench you can't let the level of play go down at all," said junior guard Kylie Muntz. "I feel like the bench has done a really good job of bringing that energy and not backing down when we step into the game."
A challenge awaits the Bulldogs this upcoming weekend, as Ferris will host league-best and nationally 6th-ranked Ashland University on Feb. 11 at 1p.m. in the Jim Wink Arena. Ashland is 14-0 in the GLIAC South Division and 20-1 overall. The Eagles only loss was their first game of the season against Minnesota State-Mankato on Nov. 12.
"It's nice to have games like we had last week, where everybody can get in there and get confident going into the big games," said Principe. "It was good for our confidence, but we definitely have a lot of work to do this week to prepare for that caliber of team."
Ferris will look to end Ashland's 20-game winning streak. Ashland's offensive focus relies on junior forward/guard Kari Daugherty. Daugherty leads the league in scoring (20.6 ppg) and rebounds (12.2 rpg).
Ashland features the top scoring offense in the league, averaging 79.3 points per game. The Eagles also hold the largest scoring margin in the GLIAC, outscoring their opponents by 20.5 points a game.
Ferris has the third best defense in the GLIAC. The Bulldogs keep their opponents to only 58.2 points a game on average. Ashland is 5th-ranked in team defense in the league, allowing 58.8 points per game.
"We're going to take it one game at a time here because in order to continue this streak at all we have to beat Lake Erie first," said Principe. "We win Thursday then we can talk about Saturday."
Before the Bulldogs take on Ashland they will host Lake Erie for the first-time ever on Feb. 9 at 6 p.m. in the Jim Wink Arena. Lake Erie is 9-4 in the GLIAC South Division and 15-5 overall.