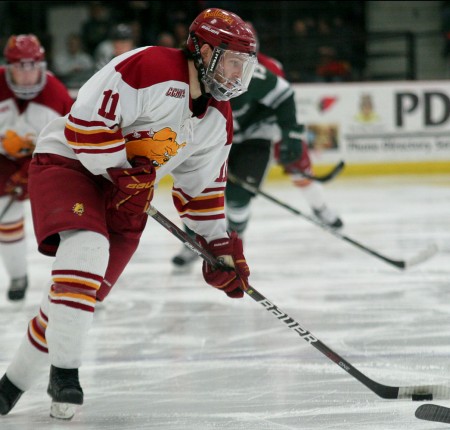 The Bulldogs have maintained their first place position in the Central Collegiate Hockey Association after snagging four league points in a trip to Northern Michigan University.
Ferris traveled upstate to face the nationally 19th-ranked NMU Wildcats Feb. 3-4. The Bulldogs began the series with a 5-5 overtime tie, securing one league point from the tie. Five Bulldog players scored goals.
After a scoreless overtime, the two teams then went on to a shootout, which Ferris lost 1-0. Northern Michigan picked up two league points from the shootout win.
In the second night of the series, Ferris adjusted to the Wildcats' Olympic-size rink, which allowed the Bulldogs to defeat NMU 3-1 on Feb. 4. This was the first win over Northern Michigan for the Bulldogs since Nov. 2008.
"It was a good thing we were able to adapt and adjust to come away with some very important league points," Ferris junior forward Kyle Bonis said. "We focused on tightening up our defensive zone for the second night."
Ferris jumped to an early 2-0 lead in the first period. Senior defenseman Chad Billins scored his sixth goal of the season off a pass from senior forward Jordie Johnston. Then, with five seconds left in the first period, sophomore defenseman Scott Czarnowczan scored a goal.
After a scoreless second period, the Wildcats started the third with their first goal of the game 1:46 into the period. As the Wildcats attempted to score the equalizer by pulling their goalie for an extra-man, Ferris junior forward Matthew Kirzinger potted an empty net goal. Johnston picked up the assist.
Ferris freshman goaltender CJ Motte secured his fifth win of the season, making 24 saves against the Wildcats. Motte improved his record to 5-4-2.
The Bulldogs are now 12-6-4-(1) and 18-8-4 overall. Ferris' current 10-game unbeaten record is 7-0-3.
"We're right where we want to be: First place. All the teams are chasing us and it seems like we're playing them," Bonis said. "It definitely seems like we control our own destiny and I think everyone on the team would say they wouldn't want it any other way."
The nationally 6th-ranked Bulldogs will look to preserve their streak as they face Notre Dame Feb. 10-11 in a home and home series.
Ferris will begin the series against the Irish in South Bend, Ind. before the Bulldogs come home Feb. 11. Both games will take place at 7:05 p.m. Saturday night's contest will be shown on Comcast Television and is expected to be sold-out as limited tickets remain.
"Our home crowd is a huge part of our success at home," Bonis said.
Notre Dame is 8th-ranked nationally. The Irish are fifth best in the CCHA in team offense. Notre Dame averages 2.68 goals per game. Notre Dame is fourth-ranked in team defense in the CCHA, allowing only 2.45 goals a game.
The Irish and the Bulldogs play a similar style of hockey, according to Bonis.
"We're two teams who play a lot of defense, but have excellent fire power up front," Bonis said. "The games are going to be so close and these teams are so evenly matched; it's going to be a defensive battle."
Ferris is ranked third in team offense in the CCHA, scoring 2.82 goals a game. Ferris is fifth best in team defense in the CCHA, allowing 2.50 goals a game. Ferris is the best team on the power play in the league, converting on 20.2-percent of their chances.
"[Special teams] are really what make or break a game usually, especially when it comes to the end of the season. Having the power plays click and work well is so vital for success,"
Bonis said. n