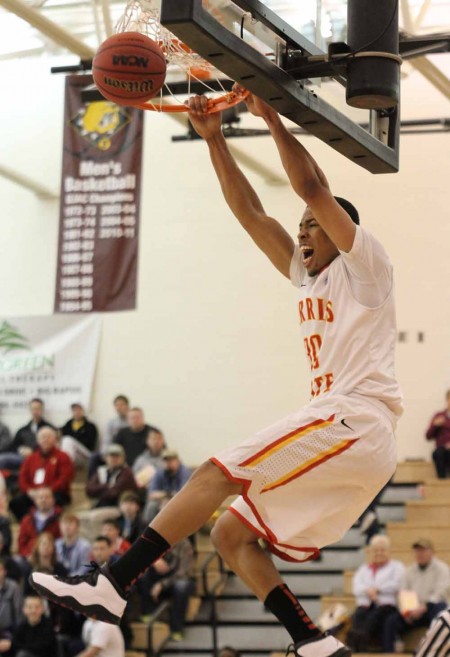 The FSU men's basketball team made quick work out of Lake Erie College and Ashland University as the Bulldogs recorded decisive wins over the two Ohio teams to maintain its two-game lead atop the GLIAC North Division standings.
On Thursday night, FSU used a strong second half finish to defeat Lake Erie 82-57 at Jim Wink Arena. The Bulldogs led by just two points at the break (34-32) but came out reenergized in the second half and outscored the Storm 48-25 over the final 20 minutes of play. The second half surge was fueled by a 65 percent shooting effort by FSU.
"We definitely have to take care of home court," FSU junior forward Daniel Sutherlin said. "We're taking it one game at a time. We're not lacking confidence at all."
The Bulldogs were led by junior guard Kenny Brown's game-high 29 points. Brown finished the night five-of-eight from three point range. FSU freshman guard Dietrich Lever added 19 points of his own as the performance marked a career-high for him. Sutherlin rounded out the double-digit scoring as he tallied 16 points to go with a game-high 11 rebounds.
"We're starting to play some really good basketball," FSU head coach Bill Sall said. "We're in a position now where we're confident we can make a good run at the end of the season."
The Bulldogs carried their inspired play into Saturday afternoon's game as they defeated visiting Ashland 87-66 at Jim Wink Arena. The victory allowed FSU to finish its five-game homestand undefeated. With the win, the Bulldogs improved to 15-7 overall and 12-3 in GLIAC action.
"When we're aggressive, good things happen," Sall said.
The Eagles trailed 48-27 at halftime and were never able to recover as FSU cruised to victory. Four players reached double-figure scoring for the Bulldogs. Brown paced FSU with 24 points while senior Dontae Molden tallied 20 points. Sutherlin contributed 16 points, and senior Jerrell Sanders added 14 points.
"I feel like this team is starting to gel," Brown said. "We all play for the seniors. It's their year."
The Bulldogs are scheduled to play four of their final regular season games on the road. FSU is slated to travel to Wayne State University Thursday followed by University of Findlay Saturday. Tipoffs are set for 7:30 p.m. and 3 p.m. respectively.