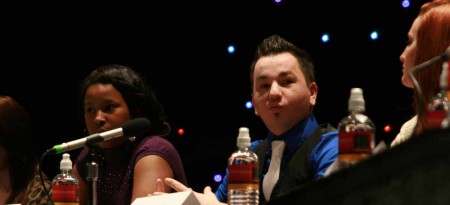 While diversity is a well-discussed topic at Ferris State, students took it to the next level by talking about controversial issues in front of a live audience.
During the event, "United We Stand, Divided We Fall: Discussion on Diversity and Controversial Issues on Campus," some conversations became heated.
All from different backgrounds, 13 students sat at a round table discussing issues involving race, ethnicity, inclusion and diversity. Each student on the panel represented a student registered organization on campus.
As each question was asked to the panel, the representatives would speak up if they felt they had something impactful to say.
Ron Snead, Ferris Board of Trustees chair, mediated the event and explained the importance of the topics.
"It's very imperative that we keep this discussion going. It's vital for every student to learn to interact and understand various cultures, because you're going to be working with, and possibly working for, a person of a different culture," Snead said. "To me, education is more than reading a book and taking a test. It's learning to communicate with other people and respecting their differences."
A diverse crowd of about 150 to 200 different faces gathered to listen to this discussion. Throughout the event, cheers from the audience occured spontaneously to applaud different representative's responses.
James Duncan, an undecided freshman, enjoyed the event.
"I think the event turned out great. There are people who are passionate about student organizations and people who care," Duncan said. "It was all about breaking down the barrier between races. People need to break away from what they know."
This year was the third annual, "United We Stand, Divided We Fall" event at Ferris and the first year as a five-star event. Student Government, Black Leaders Aspiring for Critical Knowledge and the Diversity and Inclusion Office hosted the discussion.
According to Lonie Donald III, vice president of B.L.A.C.K and junior in secondary English education, the main goal for this event was for the university and viewers to walk away with a sense of diversity and be able to create a more inclusive campus.
As the representatives spoke, answering the questions based on their opinions and experiences, there was one answer they all seemed to agree on.
"Diversity is having an open mind and having a new respect for different cultures," Brennon Warren, senior in criminal justice and Student Government representative, said. "Sure, we all look different and we all act differently, but the more we learn about someone and their culture, the more we realize we are all people working for a similar outcome and common good."