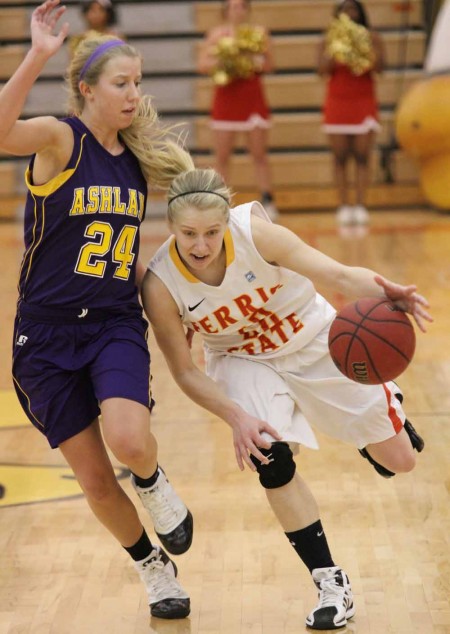 All good things must come to an end.
Ferris State University's 10-game winning streak was snapped this past Saturday by Ashland University as the Bulldogs were defeated by the score of 66-56.
The Ashland University Eagles rolled into Big Rapids with a national ranking of fifth and an eye-popping 22-1 record with a 16-0 mark in conference play.
Never the less, the Bulldogs fought to the end as the two teams atop the GLIAC North and South Division collided at Jim Wink Arena
"We came out with a lot of energy, but things were not happening right and we didn't play our game," freshman center Christina Branch said.
Previously the Bulldogs have been unstoppable and took care of Lake Erie University 56-53 on Thursday, but FSU's problem was pace throughout the contest against Ashland.
Even though the game was close throughout, the Eagles managed to pull away for the victory at the end.
The leaders of the game for the Bulldogs were sophomore guard Sarah DeShone, who netted 11 points, and senior forward Tricia Principe, who managed to grab 12 rebounds.
The Bulldogs came away from this game obviously disappointed, but not all hope is lost as it leads the Bulldogs to focus on certain aspects of their game and where they can improve.
"We have to improve in playing our game, don't let any other teams control the game pace," Branch said. "[We] just have to get into a groove and play our style."
The Bulldogs still sit atop the GLIAC North Division even with the loss, with an 11-2 record in conference play.
As the season moves on and comes to a close, the Bulldogs have four contests left to try to clinch a GLIAC North championship, as the Bulldogs travel to Wayne State University and Findlay University this upcoming weekend.
"Our goal is to get back in a groove and to win the GLIAC," Branch said.
If the ladies can get two road victories this weekend, they will clinch the GLIAC North Division championship for the first time in program history since the league was split into two divisions in 1997.