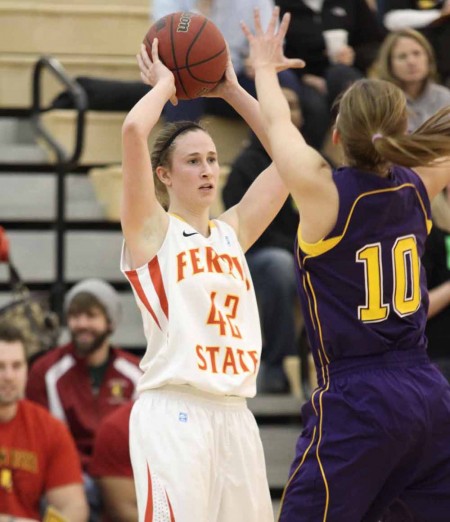 The Ferris State University women's basketball team accomplished something never done before in their history this past Saturday night as they took down Findlay University 80-72 on the road at Findlay's home arena.
"It felt great," Ferris senior Lindsey Pettit said. "My last three years our team didn't accomplish this, so it feels really good to finally get [on this level of play]."
The Bulldogs started off slow and went into halftime trailing with a score of 37-35, but the Bulldogs came ready to play after the half and battled until the very end to come away with a sweet victory.
For the Bulldogs, senior guard Tricia Principe led the way with a big night of 27 points. Following Principe were sophomore guard Sarah DeShone and freshman forward Christina Branch with14 points each.
The key to the high scoring win was the second half offensive performance, in which the Bulldogs shot over 70 percent from the field.
However, offensive dominance isn't what the Bulldogs' main strength is; according to Pettit, "Our biggest strength is that we crash the boards hard, offensively and defensively we try to get those rebounds."
Ferris State University also held the edge in rebounds by a margin of 35-30, in large part due to Christina Branch's eight rebounds coming from all over the court.
Even though this win clinches the Bulldogs the GLIAC North Division crown, it doesn't mean they are celebrating too early; they have two games to go before hosting the first round of the tournament Wednesday.
"Well, we still have a couple games to go on the season, but we still have to focus and get ready for the tournament," Pettit said.
This Bulldog team's hard work was rewarded with this big win on the road as this game featured nine lead changes and ten ties throughout the contest.
FSU's 17-5 overall record with an notable 14-2 mark in conference play is impressive, but it looks to build on that as it plays its home finale on Feb. 22 against Hillsdale College before finishing the regular season at Grand Valley State on Feb. 25.
As the Bulldogs head into tournament play there is plenty of optimism that FSU could come away as the champion as they have the opportunity to accomplish things no Bulldog basketball team has
done before.