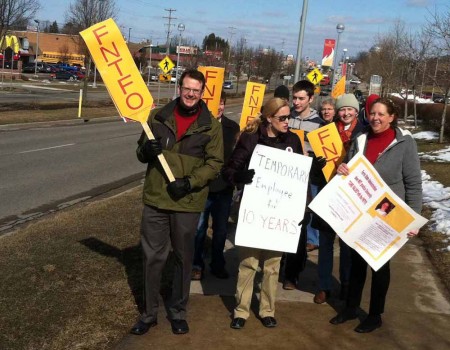 Members of the Ferris adjunct union were seen picketing near the Timme Center for Student Services on Feb. 28 to negotiate what they say is unfair working conditions for adjunct professors.
Negotiations have been taking place since Feb 3, 2011. The Ferris Nontenure-Track Faculty Organization (FNTFO) represents an estimated 100 adjunct faculty who are involved in negotiations with the university. Members are bringing attention to negotiations with Ferris' administration in hopes for better job security, more clear and concise policies, health care benefits and fair salaries.
Shelly Armstrong, spokesperson for the administration said negotiations between the FNTFO and Ferris' administration have been addressed at the bargaining table in a reasonable and fair manner.
There have been more than 30 bargaining sessions and more than 140 hours of negotiations. At the request of the university, a state-appointed labor mediator joined the negotiations in July 2011 as well as ten sessions conducted with the mediator. 
The FNTFO, whose members average seven years of employment, became an official union a year ago and makes up 20 percent of FSU's faculty. Armstrong said adjuncts should not be confused with the full-time no tenured faculty who are in the FFA. The adjuncts are not tenure-track faculty.
Members hope to make an attempt to bring campus-wide attention to contract negotiations.
Griffin Godlewski, Ferris sophomore in English, feels this is not fair. "It doesn›t make sense to me that the university can spend thousands of dollars on three concerts a year, or they can afford to remodel Rankin, but they can't afford to give their staff benefits? It's just wrong."
Armstrong said as the university seeks to restrain tuition increases for students, it is important for students to be aware of the effects of contract negotiations.
The largest cost contained in the university's general fund is for salaries and benefits.
"Ferris students need to understand that additional costs for an adjunct faculty contract will mean increased costs for them," Armstrong said.
A big concern for the adjunct union is job security. Armstrong said many of the issues brought forth by the adjunct union have been resolved.
"It is worth remembering that the nature of many adjunct appointments is that they are part-time or temporary. A different bargaining group represents tenure-track faculty," Armstrong said.
The full-time non-tenured FFA faculty is required to engage in services and scholarly activities in addition to their teaching responsibilities. An adjunct no tenure-track faculty focuses on teaching responsibilities without those extra requirements. Armstrong said an adjunct workload varies from three credits per semester to as high as 15 credits or more. 
Some students feel the faculty teaching should be looked at differently considering students are required to take general education classes.
"There is absolutely no reason that someone who teaches general education classes is considered less important than someone who has a specified field," Godlewski said.        
Each of the eight union bargaining units at Ferris has their own distinct benefits and they are different than the benefits provided to non-union administrative employees. Armstrong said employees have a right to express their opinions in a lawful and orderly manner.
"As to issues that are being discussed in negotiations, we prefer to handle those issues in negotiations with the adjunct union. Contracts are settled at the bargaining table."