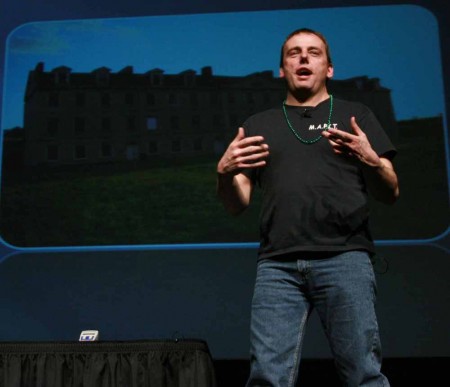 The Michigan Area Paranormal Investigation Team (MAPIT) revealed that the Alumni and West Buildings are in fact haunted.
After 16 hours of video footage and 20 hours of audio recordings, the team confirmed paranormal activity at Ferris State University. For their investigation, they used various electronic equipment such as electromagnetic field detectors, electronic voice phenomena, night vision cameras and video cameras.
MAPIT defined paranormal activity as "events that are beyond the scope of normal scientific understanding." They explained that ghosts have been around since the beginning of mankind to explain the unexplainable.
"We try to present only the best evidence," Daniel Mackin, founder of MAPIT, said. "We operate scientifically, but our minds are always open to all possibilities."
The video footage displayed a chair in a storage room of the lower level of Alumni moving five inches across of the floor. Following this event, the team captured the sound of footsteps across the floor and then a door slamming on an EVP recording. The team claimed the footsteps couldn't be recreated.
"It sounded like the footsteps were in the room and went right through us," Mackin said.
The team also did EVP recordings in the women's locker room below Alumni. They played a series of recorded questions and discovered a vocal response to one of the questions.
"How old are you?" played the recording.
"Forty," the voice responded.
The team confirmed there was nothing that could make that noise.
Mary Gallagher-Eustice, who works in the history archives for FSU, said she has experienced paranormal activity in the Alumni Building for quite some time now.
"There were things that were happening that could not be explained," Gallagher-Eustice said.
She said pictures would fall over and strange insects would appear when the entity was present. Gallagher-Eustice also mentioned that custodians would notice weird things happening inside the building. These personal experiences convinced her there was some type of activity happening.
Gallagher-Eustice added, "I'm relieved it's haunted, horrified it's haunted and excited it's haunted."
Krystle Karnofsky, Ferris senior in music industry management, said she had beliefs about the Alumni Building being haunted prior to the investigation.
"Two years ago, I got to go on an investigation and was very intrigued," Karnofsky said. "Their findings were confirmation for myself that it was really haunted."
MAPIT was founded in 2006 and is from the Traverse City area. They have done several investigations in places such as the Island Place Hotel on Mackinac Island and Fort Wayne in Detroit.
This paranormal investigation and presentation was sponsored by MAPIT, Entertainment Unlimited and the History Task Force.