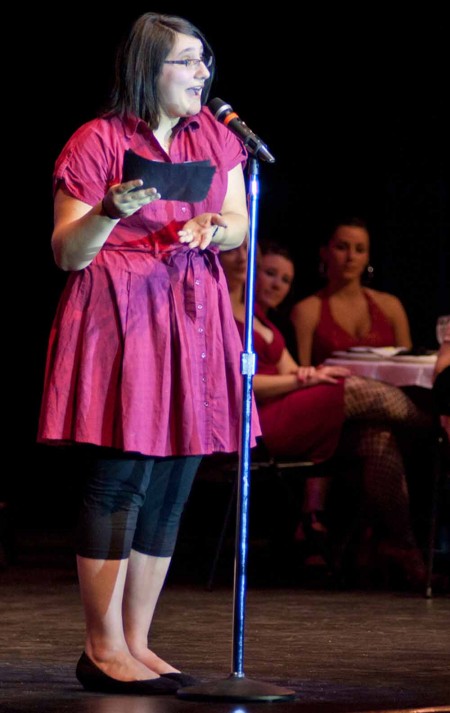 Anyone who attended the Vagina Monologues at Ferris wont' forget the acts: A woman performing a different array of moans, another talking about how angry her vagina is, women describing what their vaginas would say if they could talk or what they'd wear if they dressed up. There were also saddening stories of women who have faced sexual torture, mutilation and abuse. Above all, there was a sense of empowerment in being a woman.
ChaVon McMurray, FSU senior in applied speech communication, is setting the example for vaginas everywhere. As one of the three winners of the "Vagina Warrior" award, McMurray has been recognized as a strong individual who brings out the best in everyone she meets, encouraging attitudes of respect. Though the show may be over, the movement to end violence against women is as strong as ever. These are her thoughts.
How long have you been involved in the Vagina Monologues?
"I've been involved for three years, but I've been going since my freshman year, so a total of four years I should say."
How do you feel the show went and how do you think it reached the audience?
"The show was amazing. I think that there were a lot of new people here, so the crowd could have been a little better. But for the most part, I think people enjoyed it and they caught what the Vagina Monologues are actually for."
What do these monologues mean to you on a personal level?
"When I first got involved, I just knew I wanted to be a part of it. Now as the years have passed, I've realized the Vagina Monologues really support a great cause. People need to know that there are women out there that still get raped and get hit. Instead of just showcasing a lot of sadness about it, I feel like the Vagina Monologues are a great way to show people that even though sometimes we go through these hardships, we can make great stories out of them."
How has being in this production changed you as a person?
"I'm a people person. Because of the Vagina Monologues, I have gotten to know so many nice young women on campus and even men because men are also involved. I think it's just helped me become more aware of my campus and more comfortable of where I want to be."
What does it mean to win the "Vagina Warrior Award?"
"I didn't know I was nominated. So when I looked at the program, I started crying. It felt good that my really good friend Jamie who nominated me (who was the director of the Vagina Monologues) let everyone know that I do support the campus. It really makes me happy for her that she can say that I make everybody feel good and have a welcoming personality. I almost cried again while I was on stage. Not to sound conceited or anything, but I feel that everything she said about me was true. I do want to make sure everybody is happy and I'm pretty much friends with everyone on campus."
Why are the Vagina Monologues so effective in spreading awareness on the issues?
"I think the fact that it's a play makes it different within itsself. Instead of how people usually talk about women and violence like with a PowerPoint or speaker, the Vagina Monologues is different because students and women everywhere really get involved. They are actually stories from women across the world who have experienced the good or bad things with having a vagina. People laugh and some people cry, and I think that's why it's the perfect way to get our point across."
What is your favorite monologue?
"The one I did last night called 'Because he Liked to Look at It.' It's my favorite because I got to play the voice of Bob and I think it was pretty cool. My other favorite is 'My Angry Vagina.' The storyline behind it is so true. Girls go through so much, and 'My Angry Vagina' was the perfect theme for vaginas everywhere. We don't really talk about it and it got showcased that night."
Any last thoughts?
"Peace, love and vagina!"