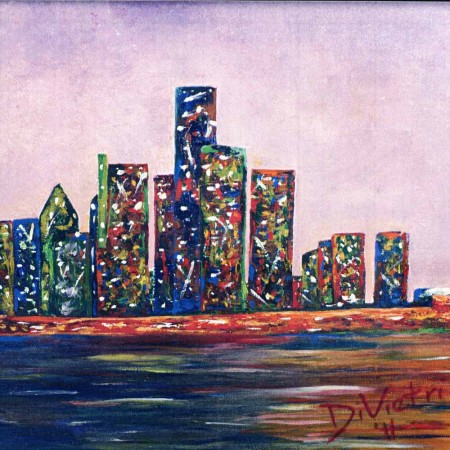 Melissa DiVietri, FSU junior in new media printing management, never expected a piece of her art to have the opportunity to leave such a lasting impression.
After working in Detroit last summer, DiVietri felt inspired to create something that would capture the unique essence of the city, despite how long she'd been out of the art game—four and a half years without painting.
It wasn't until DiVietri's boss, Ted Halm, University Advancement & Marketing Web content manager, recommended DiVietri submit her painting to a Detroit Free Press competition called "Detroit Self Portrait" that DiVietri really considered the impact her piece could make.
"Melissa's painting shows a futuristic, progressive and optimistic view of Detroit and its revival. She is a hard-working student and a wonderful, warm person who really cares about others. Her piece should be chosen because it is a highly original work of art and not just another photograph of a street scene in Detroit," Halm said.
If DiVietri's piece wins the competition, it will be displayed in the Detroit Institute of Art, in an exhibit where metro Detroiters display their view of the city. But DiVietri needs the help of the student body to vote for her piece.
"I've been painting since I was five after my sister got me into it. The house is flooded with our stuff. Graphic design came to me my junior year of high school, and I didn't realize I could use my art creativeness for a career. I see things a lot differently than the normal eye. I can see color and I'm a big a color fan," DiVietri said.
This very ability to see things differently and her love of color is hard to miss in her depiction of Detroit. The city skyline blends an intricate array of colors and light. But DiVietri's message goes far beyond expressing her love of color. It's all about her love of the city, a city that often maintains a bad reputation.
"I want to show that Detroit is this colorful crayon box with all this spark. It holds a stereotype, but you have to live there. When I lived there I did everything I could. I went to concerts, venues, Tigers games–anything and everything in Detroit. Each event has different people," DiVietri said.
Despite her apprehension about living in a new city alone, DiVietri made the most of her time and allowed it to inspire her art and character.
"I didn't know anyone out there, so I had the perspective to be more outspoken and outgoing. I was immediately accepted into the city positively," DiVietri said.
DiVietri was awarded two tickets to the DIA for being one of the first 100 to submit her artwork. Her hope is to contribute to the holistic view of the city from those who know it best–its residents.
"It was one of those eye-opening experiences where you see that Detroit is coming along and coming back. Being surrounded by that culture, diversity and urban art really sparked my creativity to want to keep something forever of that summer," DiVietri said.
DiVietri's Detroit piece is just the beginning. It's the symbol of her desire to be a positive change in media and do more with her talents than collect a paycheck.
"I want to be a fresh breath of air in media–to be able to help all the things that are portrayed negatively. So often as soon as you turn on the TV you want to turn it off already. I think that I can make an important impact if I really put my heart into it," DiVietri said.
To vote for DiVietri's panting, visit http://www.freep.com/portrait/?d=view&id=817 .