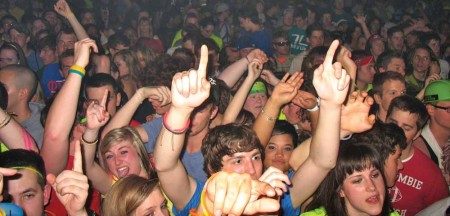 Smoke fills the room. Beach balls skitter across the surface of the crowd. Colored strobe lights dart around, highlighting the solitary individual on stage.
Suddenly the beat drops and the room explodes into a flurry of activity. Some people are fist bumping and waving around glow sticks while others are full out break-dancing.
Part rave, part concert, part dance party — there was something for everyone at this event. Attendees were greeted at the door with free glow sticks and many purchased more glow-in-the-dark paraphernalia. Part way through Mimosa's set, beach balls rained down from the bleachers, further increasing the hype.
Anyone who attended Turn Up the Good 2.0 will recognize this familiar scene. With an almost-packed house, chances are many Ferris State University students are already reminiscing over the crazy time they had that night.
Musical artists Uncle Jesse, SuperDre, Minnesota and Mimosa kept the crowd dancing. Despite complaints of "the good not being turned up enough" at the beginning of the show, once Minnesota hit the stage, the audience could not sit still. The musicians made dubstep or electronic remixes from popular songs by artists like Adele, Kanye West, Jay-Z and Dev, or played completely original songs.
SuperDre, whose rhythmic electronic flow warmed up the crowd, shared an interesting story at the beginning of her set.
"I haven't been here in a long time. My parents met here, so if it weren't for Ferris I wouldn't be here," SuperDre said.
After the show, she remarked that playing at FSU was one of the better performances in her career. In addition to an energetic and involved crowd, she also loved the support from MIMA.
"The music industry management is on point," SuperDre said. "I haven't played at a show that's been this organized in a while."
Although the musicians were enjoying themselves, they weren't the only ones. Students couldn't help but dance to the throbbing beats and energizing bass. Quenton O'Neal, FSU graduate in architectural technology, took their music as a challenge to improve his dancing.
"They challenge the dancers with their fresh beats. It's one thing to fist pump; it's another to hit every beat they hit," O'Neal said.
From the mellow rhythms of Uncle Jesse and SuperDre to the hypnotic beats of Minnesota and Mimosa, Turn Up the Good 2.0 accomplished its goal — it was good and it was most definitely loud. Since most of the audience members in attendance were students, here's what some had to say about the concert:
Robert Garcia, junior in information security and intelligence
Expectation: Something cool and awesome. Having fun, like a rave. My friend got me into this kind of music. It would be sweet if paint came out everywhere like Dayglow, but we're not that cool yet, so just some good music.
Reality: The concert was way better than I expected it to be. The music was good, and it really had the crowd going. Definitely going again next time.
Favorite Part: My favorite part was when Minnesota was tearing it up!
Brandon Laninga, sophomore in psychology
Expectation: I expected it to be like last year, but it was better.
Reality: It was a lot more energetic and a lot more fun.
Favorite part: My favorite part was once Mimosa got on stage, energy just flew. Everyone was dancing.