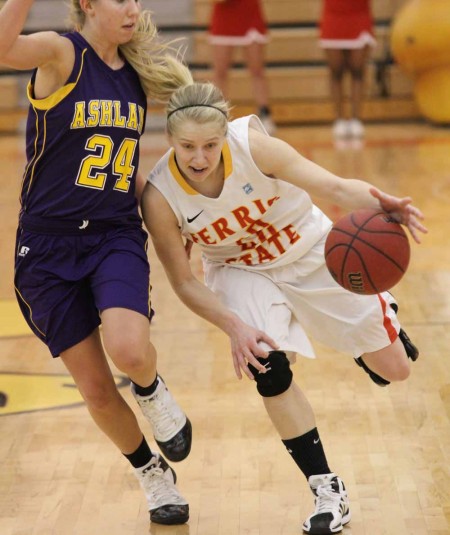 Good news just does not stop coming for the Ferris State University Bulldogs athletics.
Not even the hockey team's NCAA Frozen Four berth could overshadow sophomore guard Sarah DeShone's accomplishments.
The guard has earned All-American honors for Division II women's basketball on top of the historic season for the Lady Bulldogs.
"Well, it feels great to be awarded, but a lot of it is because of my teammates and without them all of my hard work wouldn't be as rewarding," honoree DeShone said.
DeShone led the Bulldogs in scoring in the 2011-12 campaign by averaging 14.6 points per game and almost five assists to add to her statistics as well.
DeShone was a big part in the Bulldogs huge success this season, as FSU won the GLIAC North Division for only the second time in school history and by earning a number two seed in the NCAA Division II tournament.
The All-American committee is composed of eight representatives from different parts of the country with one chairman overlooking all of the discussion and voting.
DeShone's accolades for this past season are remarkable; not only was she an All-American honorable mention, but also an All-GLIAC first team selection, All-GLIAC tournament team and an All-Midwest Region second team selection. As only a sophomore, the future looks even brighter for the Bulldog star.
When asked what she improved on most from the previous season, the humbled star said, "My leadership abilities have improved. I feel like without my teammates I couldn't have achieved this."
Since 1981, the start of the All-American committee, there have been only four other Bulldogs to receive any type of mention from the panel, the last was Rachel Folcik in the 2006-07 campaign as she earned honorable mention honors as well.
Even though the Bulldogs are having success in many sports, this achievement is one to be proud of as a program and as a stepping stone for the women's basketball team as they look to take another step next year.
"It starts this Monday. In the post-season we need to work on putting up a lot of shots in an open gym, and playing with each other so we can get that chemistry back that we had all of this season," stated an eager DeShone.
The Bulldogs now hit the summer working on getting where they were this past season, and even though key players Tricia Principe, Lindsey Pettit and Kelsey DeNoyelles will be graduating in the spring, DeShone along with the rest of the Bulldogs have the ability to maintain that high
level of success. n