Here it is, nearly April and Ferris State University has earned the gift of more hockey.
In case you missed the nationally televised games, the Bulldogs managed to advance to the Midwest Regional Final by defeating Denver University 2-1 March 23 in Green Bay.
The Bulldogs then went on to defeat Cornell University 2-1 in the Midwest Regional Final March 24 in Green Bay, claiming their first ever NCAA Frozen Four berth in the program's history.
"We really came together this weekend. We played as a team and it feels really good to accomplish something that so few people thought we could accomplish," senior forward Jordie Johnston said. "It's a once in a lifetime opportunity and we want to share it with everyone."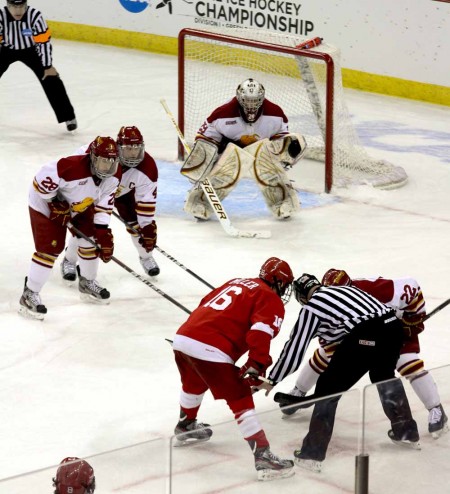 The game against Cornell went scoreless for the first two periods before junior forward Garrett Thompson scored first for the Bulldogs. He netted his tenth goal of the season 11 seconds into the third period on a power play that the Bulldogs received during the second period. Junior forward Matthew Kerzinger assisted Thompson on the play.
Cornell answered back 2:32 into the third period as Dustin Mowrey scored off of a Bulldog turnover, tying the game 1-1.
The Bulldogs leading goal-scorer Johnston scored the game winning goal against Cornell at the 6:54 mark of the third period. Sophomore forwards Andy Huff and Cory Kane assisted on the play.
"We've had literally everyone coming to play every night and it's helped us get to the point where we are and if we can continue to do that we'll be successful going into the future," Johnston said.
Senior goaltender Taylor Nelson made 22 saves in the victory.
"I think for future success, Taylor has to continue playing the way he has," Johnston said.
The Bulldogs were 1-for-5 on the power play while they kept Cornell 0-for-6 on the power play. Ferris served 27 penalty minutes in the game.
The Bulldogs improved to 25-11-5 overall this season.
All season long Johnston and Nelson have said that this years Bulldog team wanted to be a team that would be remembered in FSU Athletics. Not for one player's standout performance; but instead, for the team's complete performance.
Now FSU will face a team that both Nelson and Johnston think is similar to them. Union College has never made it to the Frozen Four before and has made it to the NCAA Tournament two times in the program's history. Union College is also a small school. Neither team has any NHL Draft Picks.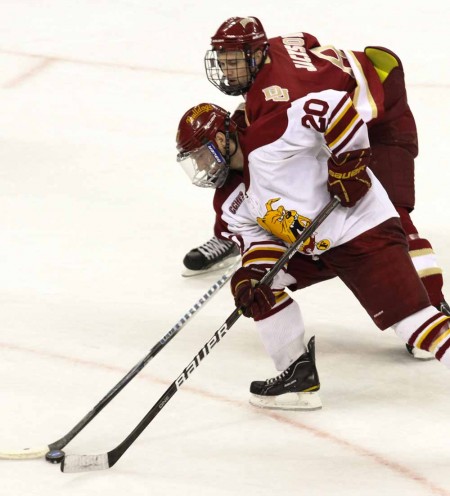 "I think when you look at our team it's the team mentality that we have that I don't think any other team in the nation has and that's what is going to end up being the difference maker for us," Johnston said.
Union has averaged 3.55 goals a game this season and their team defense has only allowed 1.80 goals a game. Their team defense has been aided by sophomore goaltender Troy Grosenick, who has totaled 1.64 goals against on average and has a .936 save percentage.
The Midwest Regions most valuable player, Nelson, has only allowed two goals during the tournament for the Bulldogs. Nelson has a .923 save percentage this year and a 2.10 GAA.
Nelson said he thinks what stands out about this year's team is their willingness to sacrifice themselves each game. Nelson's belief is supported by the Bulldogs combined 460 blocked shots this year.
"Everybody is willing to bleed for this team," Nelson said. "We're a defensive hockey team and in the end defense is what wins championships."
FSU and Union will faceoff in Tampa April 5 at 4:30 p.m. in the national semifinals. If the Bulldogs win, they will face the winner between Boston College and the University of Minnesota.
There may be a bus to take fans and students down to Florida to watch the game, though details have not been released yet. Tickets are $195 and allow fans to watch both the semifinal and national championship games. They may be bought directly from the FSU Athletics
Ticket Office.