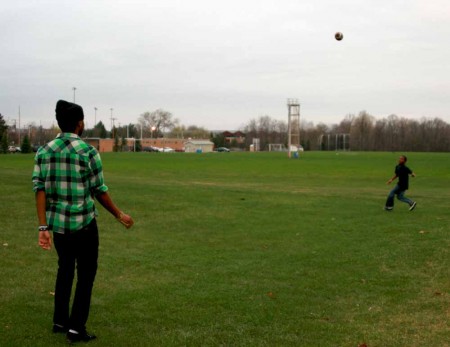 Much excitement and magic appeared on campus during Ferris State University's annual Sibs and Kids Weekend March 23.
This event welcomed students to invite their siblings, friends, and family to spend a weekend on campus to experience what life is like at Ferris State.
"Sibs and Kids Weekend is a way for everyone to experience what you're experiencing at school," Chelsea Broekema, executive board secretary of Residence Hall Association and co-head of the Programming Committee for RHA, said. "This is an opportunity to bring friends and family together."
The theme for this year's Sibs and Kids Weekend was "Where the Magic Happens." Various events took place throughout the weekend, anything from fun inflatables to Quidditch. The featured event of the weekend was a magical comedian act called "The Norman Magic Experience" which kicked off Friday in the Wink Arena Rubber Room.
Courtney Constance, a freshman in criminal justice, said, "It's a lot of fun and gets a lot of people to campus when they're younger."
Daniella Babcock, an FSU freshman in the pre-nursing program, brought her little sister Mahriya to this year's Sibs and Kids weekend.
"I brought my little sister because I figured she'd have fun," Babcock said. "[Siblings] get to see where we live and where we eat."
Many young children attending the event were most excited for the magic show and staying with their older siblings in their residence halls.
Lexi MacDonald, who is the younger sister of Jenny MacDonald, freshman in pre-optometry, was eager to see the magician and to stay the weekend on campus.
Sibs and Kids Weekend was a great event that provided a magical weekend for siblings to spend together. Students and their siblings enjoyed hall programming, meals at the Rock Cafe and all sorts of magical fun.
The event was sponsored by RHA, Dining Services, National Residence Hall Honorary and Entertainment Unlimited.