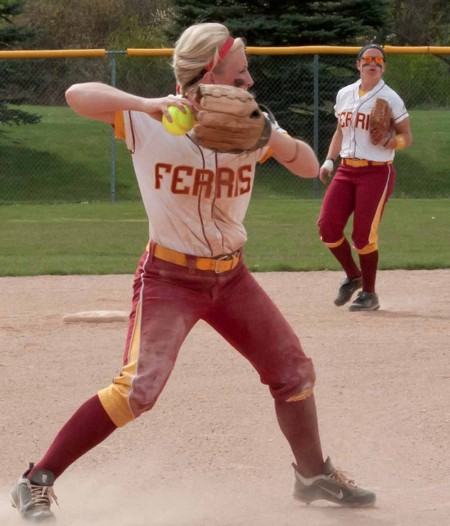 The Bulldogs walked onto their home field for their last home series of the spring season April 21-22.
Ferris State University began a five game winning streak in Midland, Mich. against Northwood University.
Ferris claimed a sweep over the Northwood Timberwolves April 18. The Bulldogs defeated Northwood 6-3 in the first game of the series. Ferris then closed the day with a 13-5 victory over the Timberwolves.
Rival Saginaw Valley State University tested the Bulldogs in a two day, four game series April 21-22 in Big Rapids.
Ferris swept Saginaw Valley April 21 in their first day of doubleheaders by claiming 5-1 and 8-7 victories, respectively.
"I thought our hitting was really great [against SVSU], we scored a lot of runs," FSU junior pitcher Dana Bowler said. "Gave up quite a bit of runs in that fourth game. But it's always hard to play a team four times in a row. They saw all of our pitchers."
Junior catcher Liz Hamming hit her ninth homerun of the season in the first game of the day. Sophomore designated player and pitcher Amy Dunleavy posted two hits, scored two runs, and batted in two herself.
The second game of the night featured a game-tying grand slam by Saginaw Valley. The Cardinals were down 5-1 in the bottom of the seventh, with two outs against them. Despite SVSU's efforts at tying the game, the Bulldogs regained the lead off of RBI's from FSU juniors Lainee Clay and Lindsey Pettit.
Both teams met again April 22 to finish the series with their last doubleheader. The Bulldogs managed to defeat SVSU in the first game 3-1. Saginaw Valley came back in the final game to defeat the Bulldogs 13-12.
Ferris State is 17-13 in the Great Lakes Intercollegiate Athletic Conference. The Bulldogs are 26-22 overall. Ferris State hopped into a second-place tie with Hillsdale. Bowler said the Bulldogs stance in the GLIAC is important most right now.
"It's always good to go into the GLIAC tournament with stringing some wins together," Bowler said.
The Bulldogs have officially clinched a spot in the GLIAC Tournament. The 2012 GLIAC Tournament will take place April 27-29 in Findlay, Ohio. Seeding will be determined once each team has completed their season.
"Hopefully we'll get that second seed if we take two against Lake State and Saginaw and Hillsdale split," Bowler said.
Before Ferris begins tournament play the Bulldogs will finish regular season play at Lake Superior State University April 24. Ferris has swept Lake Superior on the road once this season.