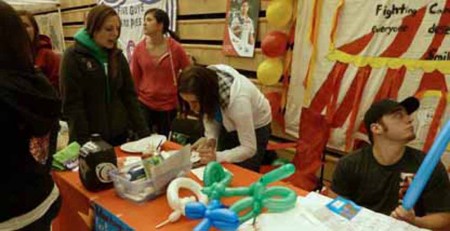 Brightly lit candles filled the gym. They illuminated the faces of those honoring survivors and those remembering ones who had passed. Others shone triumphantly on survivors themselves and on their faithful caregivers.
Molly Pugliese, sophomore in pre-nursing, was one of those many faces, holding a candle not for one lost loved one, but for two. In 2009, both of Pugliese's grandpa's passed away. On her father's side, her Grandpa Tom battled an aggressive brain cancer that took his life in two weeks. Only 14 days later, complications of emphysema and pancreatic cancer took her mother's father, her Grandpa Howie.
"My Grandpa Tom was always very, very healthy. He and my grandma were going to the gym everyday when he fell one time. They rushed him to the ER, did some tests and found nothing was wrong," Pugliese said.
However, a few weeks later upon returning to the gym, Pugliese's grandpa had another fall. The next hospital visit confirmed something was indeed wrong.
"That's when they found out he had brain cancer," Pugliese said.
Shortly after, when her Grandpa Howie was diagnosed with pancreatic cancer, Pugliese had to decide how she'd handle the hardship.
"I was out of school the entire month of April going to and from the hospital. With my Grandpa Tom, there wasn't much they could do because it was so quick. My mom is as cancer nurse counselor, so I leaned a lot on her, as well as on friends and my family. I withdrew myself from the rest of the world. When someone I love is in trouble, I shut everything else out and want to help them get better," Pugliese said.
Pugliese, very close to both her grandpa's, remembered a moment with her Grandpa Tom, for whom she now has a tattoo in remembrance.
"I drove into Chicago one weekend and saw my grandpa Tom who is 100% Italian. I remember saying goodbye to him in Italian and he still understood," Pugliese said. "He passed away at home with my dad and his other eight boys. That day they were all in the bedroom with him and my grandma in a tiny condo sleeping on the floor."
Another personal sentiment marked her time with her Grandpa Howie.
"I was able to see my Grandpa Howie the same weekend I saw Grandpa Tom. He was in and out of consciousness. I left and said 'I love you grandpa' and kissed him on the forehead. I knew he knew who I was even thought he couldn't say anything," Pugliese said.
Despite the loss, Pugliese remembers her grandpas' legacies, and holds on to the pieces of what they gave her.
"They were both extremely hard working. My dad was one of nine and my mom one of seven, and they were both the only providers in their family. They were religious as well which is something I took from them," Pugliese said.
Pugliese plans on taking her experience to further fuel her future career goal and passion as an oncology nurse.
"I've always wanted to be a nurse, but after seeing what they went through, I want to be like my mom. Just seeing something like that is why I'm here today; it is one of the few things in life I feel so passionate about—finding the cure for cancer and not letting someone else go through what my grandpas did," Pugliese said.
Relay for life at Ferris raised over $19,500 this year, at step toward helping the lives of those like Pugliese's grandparents.