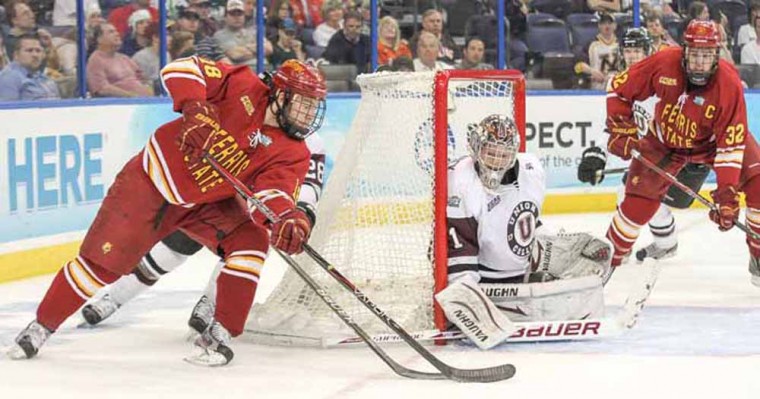 The Bulldogs ended their success-laden season in Tampa, as one of the final two teams still playing Division I college hockey in April, and as national runner-ups in the NCAA Division I Championship game.
Ferris State University was defeated by Boston College 4-1 April 7 in Tampa in the Bulldogs first ever national title game appearance.
"I can honestly say I can look at each player in that room and know that no one left anything on the table," said FSU senior goaltender Taylor Nelson. "I couldn't be happier that this is the way we went out. I'm extremely proud of every guy on this team and what we've accomplished this year."
Boston College opened the scoring only 3:18 into the first period. But the Bulldogs responded 5:19 into the first off of a goal scored by sophomore FSU forward Garrett Thompson. Sophomore FSU forward Andy Huff and junior forward Travis Ouellette were given assists on the play.
The Eagles took a 2–1 lead 10:33 into the first period off of a power play goal.
Nelson held off a Boston College goal for 46 minutes before the eagles scored their third goal 16:58 into the third period. The Bulldogs emptied their net for an extra man, but Boston College scored on the empty net to secure a three-goal lead and increase the score to 4-1.
Ferris was unable to convert on four power play opportunities against the Eagles.
"We definitely didn't take advantage of the power plays. In any game, that's going to kill you. And it was at a crucial time in the game, too," said senior FSU forward Jordie Johnston. "Probably would have changed the outcome quite a bit."
Bulldog All-American Nelson made 33 saves in his final career game as a Bulldog and stopped 27 saves over the second and third period.
"I just can't say enough about Nelly," said senior FSU forward Jordie Johnston. "He is one of the biggest factors of this year, he definitely played some of the best hockey I've ever seen him play."
His final year as a Bulldog was the first year Nelson was given the nod as starting goalie for the majority of the season and he recorded a 21-7-3 record in that time.
"The fact that I was given the chance to contribute in net this year is extremely special," Nelson said.
This year the Bulldogs captured the program's second-ever CCHA Regular Season Championship, Midwest Regional crown and first national runner-up laurels.
They were recognized as the best team in the nation at one point this season, earning the Bulldog program's first-ever national top ranking. Ferris ended their season nationally 2nd-ranked, according to U.S. College Hockey Online.
The Bulldogs 26-12-5 overall record will be the program's second best winning effort in school history.
Nelson said he believes this year's team will be remembered as the best Bulldog's hockey program for some time.
"We did something that another team in the history of Ferris State hadn't done," said Nelson. "It was a great group of guys that didn't want to say no and I think in our minds, it's made history."
Ferris State will be losing eight seniors that have enjoyed three winning seasons as Bulldogs.