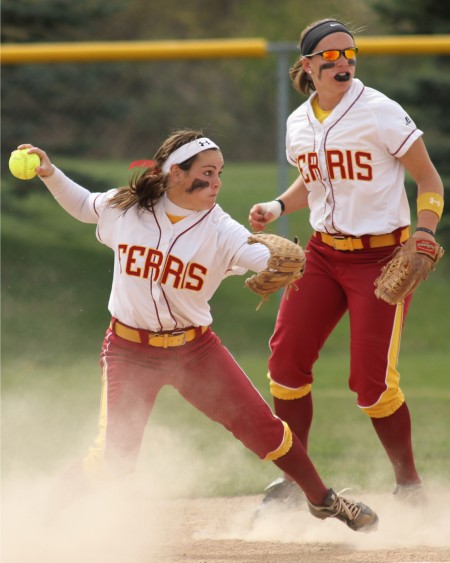 The Bulldogs are back at a .500 winning percentage after winning two games at Lake Superior State before the weekend. Now Ferris State will focus on the final four doubleheaders of the season.
"We're excited to be at 500," Dunleavy said. "We were a few games behind and it wasn't looking too good and we have had a pretty good turn around lately."
Ferris State University faced three different teams on the Bulldogs home field April 13-15.
FSU began their three-game home stand by sweeping conference foe Lake Erie on April 13. The Bulldogs won 4-1 in the first game before winning the second game of the doubleheader 10-0. Ferris State Sophomore pitcher Amy Dunleavy threw a single-hit game while tallying two hits and three RBI's on offense.
FSU split a league doubleheader against Ohio Dominican April 14. The Bulldogs began the series with a 7-0 victory. ODU defeated FSU 8-6 in the second game. Dunleavy said Ohio Dominican turned up their offense in the second game by becoming more aggressive.
Ferris finished their home stand against the South Division leader of the Great Lakes Intercollegiate Athletic Conference, Ashland University, April 15. Ashland entered the game ranked second in the NCAA Division II Midwest Regional rankings and received votes in the national poll.
Ashland defeated FSU 7-4 and 5-4, respectively. Dunleavy hit a home run while junior Morgan Kramerich hit her fourth double of the season and drove in two runs.
The Bulldogs are 21-21 overall this season. Ferris has built a 12-12 conference record and is sitting in third place in the GLIAC.
Ferris State will pack their bags for a doubleheader April 18 against Northwood. The Timberwolves are nipping at the Bulldogs heels in the standings, sitting in fourth place with a 13-13 record in the GLIAC.
After the Bulldogs visit Northwood, rival Saginaw Valley State will come to Big Rapids April 20-21 for the Bulldogs last home games of the season.
"The rest of our games are really important to our standings in the GLIAC," Dunleavy said. "We need to keep the teams that are below us where they are in the standings."
Before the Bulldogs get ready for the GLIAC Tournament April 27-29, Ferris will travel to Lake Superior State for their final doubleheader of the season.