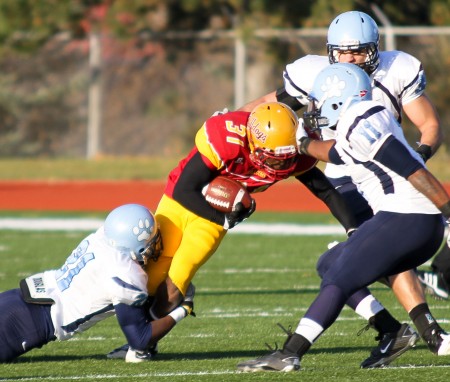 Bulldog fans switched their attention from the ice to the turf and got their first glimpse of new head football coach Tony Annese's team.
The Ferris State University football team held its annual "Crimson & Gold" Spring Game Saturday afternoon at FSU's Top Taggart Field.
"The team was definitely excited to get on the field, run around and hit each other," senior defensive end Jordan Morgan said.
In the closing seconds of the contest, the White team converted on a critical third down play to pull out a 68-64 victory over the Crimson team. The Crimson and Gold Spring Game was the culmination of FSU's official spring practice season. The season started March 23 and will include 15 workouts per NCAA regulations. Spring drills will conclude this week.
"It's about putting it all together now," Morgan said. "Playing in a game situation makes us confident for next year."
While the game was played under primarily normal operating rules, several modifications were made to the scoring system. Additional points were awarded to the offense for first downs and to the defense for three-and-outs as well as turnovers. Each team had a separate coaching staff. Volunteer Assistant Coach Bart Estola led the White team to victory while Volunteer Assistant Coach Jack Schugars was at the helm for the Crimson team.
Redshirt freshman quarterback Jason Vander Laan got the Crimson team on the board first when he rambled into the endzone from seven-yards out less than five minutes into the game. Senior tailback Dwayne Williams answered for the White team when he found the endzone from four-yards out near the start of the second quarter. The touchdown gave the White team a 30-19 lead
Following sophomore running back Jamaal Jackson's 22-yard scoring run, the White team held a 50-23 halftime edge.
Junior kicker Austin Kantola provided the PAT near the end of the second quarter. However, early in the third quarter, Vander Laan and the Crimson team used four consecutive fourth downs and an eight-yard touchdown pass to cut into the White team's lead.
In the final minutes, the Crimson team defense held the White team on the first two downs to set up a big third-down play. With time running out, sophomore quarterback Taylor Masiewicz connected with junior wide receiver Nick Piggee to clinch the win for the White team.
With the spring season almost complete, the Bulldogs are one step closer to the 2012 season where they hope to improve upon their 6-5 overall record in 2011. FSU is tentatively scheduled to face Lake Erie College Sept. 8 for the first game of the year. The Bulldogs' home opener will take place the following weekend against Ashland University Sept. 15.
"We definitely want to make the playoffs this year," Morgan said. "With the new coaching staff coming in, the mindset is not just to have a winning season, but to make the playoffs. We want to turn things around."