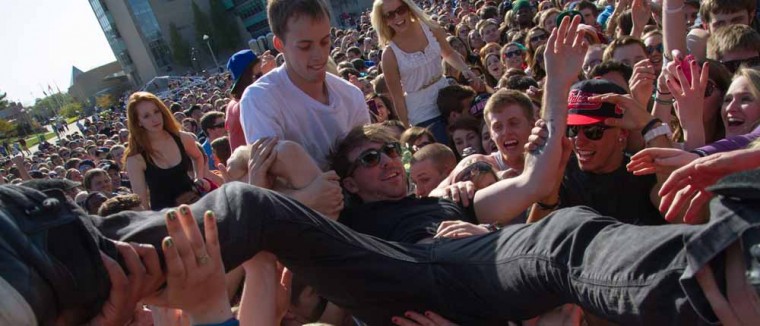 Six hours. Eight performers. Two stages. One free outdoor festival.
Ferris Fest was held April 21 in the quad from noon to 6 p.m. Besides watching musical performances on the two stages, there were many other novelties and activities to do.
There was a bounce house where students could relive their childhoods. Human bowling was a big hit; participants were locked in a large round cage and rolled down a track. The photo booth and giant chair with accessories brought out the silly side of concert-goers. In addition, there was free food provided by Jet's Pizza, Jimmy John's and Buffalo Wild Wings.
The performers on the main stage were Kris Hitchcock and Small Town Son, Act as One, Travis Porter and All Time Low. Second stage performers included KingRut, sam franjiONE and kabare, Pharaoh B and Overdrive Orchestra.
Jacob Ustick, FSU freshman in electrical engineering technology, came to Ferris Fest for the music, specifically Travis Porter.
"I think for being in a small town, having big bands is pretty cool," Ustick said.
Those in the crowd had to watch out for flying sub sandwiches and t-shirts that were being launched out from the stage. Some attendees had been at the front of the crowd since 11 a.m. to get a better view of their favorite act, while others were relaxed on the grass, talking with friends and enjoying the show from a distance.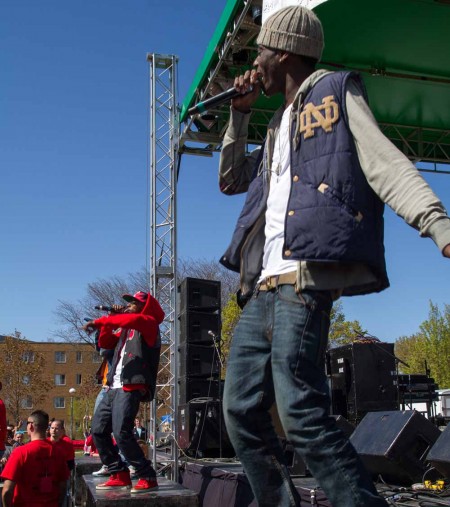 Emcee Byron Williams, FSU junior in public relations, was very pleased with how the event turned out.
"The event has gone great. I am so happy with the amount of people who showed up to support Ferris Fest," Williams said. "Ferris Fest is for the students, and I'm so glad to see so many students here. The turnout is more than we expected. We have, I'm sure, 2,000 plus people out here right now."
Although the majority of attendees were most excited for Travis Porter and All Time Low, this festival featured a variety of artists spanning across genres such as hip-hop, pop, punk and country.
Some concert goers, such as Grand Rapids Community College freshmen Kim Peterman and Heather Russo, travelled over an hour and showed up hours before their favorite act performed. Peterman and Russo have been fans of All Time Low for five or six years, they said, and couldn't wait to see them perform.
Act As One member Taylor Nagel was pleased with the crowd's response and enjoyed his time at Ferris.
"It's been great," Nagel said. "They're partying out there."
Heather Schultz, FSU junior studying pharmacy, and her friends went all-out and made matching tie-dye t-shirts for the event.
When asked about her favorite act, she quickly responded, "Travis Porter. Everything about it was amazing. Everybody loved it. Everybody was going crazy." n