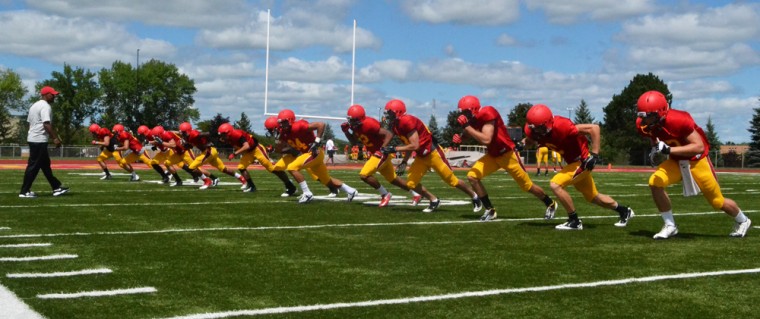 In just three weeks, the Bulldogs will charge through the mouth of their mighty mascot's head unveiling new jerseys, new attitudes and a new team with hopes that this may be the beginning of a "New Era" for the sport of football at Ferris State University.
The Bulldogs' "New Era" will be led by first-year head coach Tony Annese and his staff.
Annese built a 225-45 career record over the span of 25 years of coaching at Montrose High School, Ann Arbor Pioneer High School, Jenison High School, Muskegon High School and Grand Rapids Community College.
One hope for Annese this year is to be classified as a high energy guy. Junior tight end Jace Heneveld believes Annese's intense coaching style is helping the team have a complete focus on the field.
"Coach Annese definitely likes his football played with aggression and energy over passive play. Teams these days are getting to more of a passive type game," Heneveld said. "He knows what a championship team looks like and we're working hard these last few days of camp to get there, doing everything we can to become that championship team."
Heneveld said Annese's style of coaching is more intense and "in your face," though he finds this refreshing because he believes Annese is pulling the potential out of each of the players on the field by pushing them to focus and work harder as a group.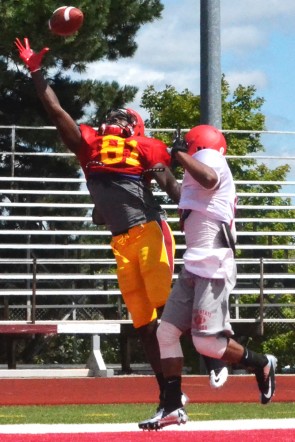 Annese and his coaching staff have been teaching a new philosophy which focuses on becoming mature.
"He's also here to shape us more as men and not just as football players," Heneveld said. "Every night [of camp] we've been talked to by just about every coach about different ways of success, things they've gone through and things we're going to have to overcome, and just being the right person."
Despite the hype of the "New Era", the Bulldogs were pegged to finish sixth in the 2012 Great Lakes Intercollegiate Athletic Conferece Preseason Coaches Poll.
"I feel like we're definitely a stronger team than what they had predicted us to be. We're gonna come out and surprise people this year," Heneveld said.
FSU will welcome the return of 11 starters on the defensive end of the football.
Senior linebackers Tayo Moss, Mike Elias and Alex Brajak will make a return to the line-up. Moss was named Preseason All-American by Beyond Sports College Network.
The Bulldogs will return five secondary starters to protect the backfield and three starters from last season to defend the line.
The Bulldog offense will try to fill former FSU quarterback Tom Schneider's spot. First-year offensive coordinator Rob Zeitman will test sophomore Taylor Masiewicz and redshirt freshman Jason Vander Laan.
The main offensive targets returning for the Bulldogs will include senior running backs Skyler Stoker and Dwayne Williams and senior tight end Kevin Guirand. The Bulldog offensive line will return three upperclassman to aide in protecting Zeitman and Annese's choice of quarterback.
Before fans of FSU are given the chance to cheer the Bulldogs on at Top Taggart, Ferris will begin the season on the road at St. Francis Aug. 30 at 7 p.m.