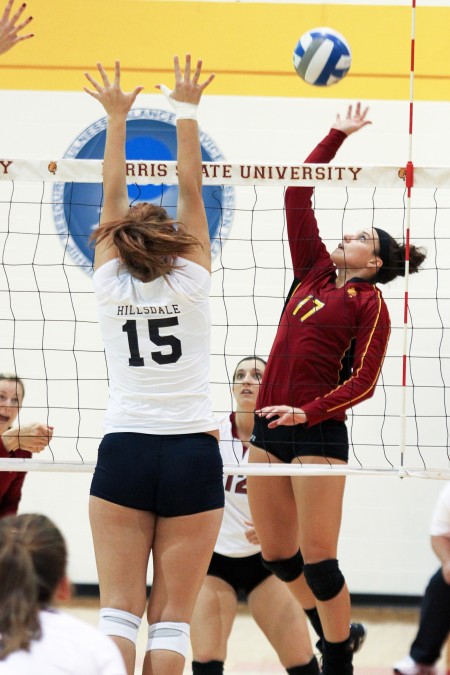 The FSU volleyball team looks to pick up where it left off a season ago after a 2011 campaign that saw 18 GLIAC victories versus a lone loss.
Ranked 14th in the preseason polls, Coach Tia Brandel-Wilhelm knows each season is a new challenge and last year's success is irrelevant.
"Each year is different," Brandel-Wilhelm said. "Our goal is not to repeat what we did last year, but to get the most out of the potential of this year's team which has a lot of talent."
The Bulldogs return six seniors including Academic All-American and all region middle hitter Anne Sutton, all conference outside hitter Aly Brecht, setters Samantha Fordyce and Paige Wyers, middle hitter Lindsey Miller and outside hitter Brianna Grover. Ferris will also welcome the return of last year's Great Lakes Intercollegiate Athletic Conference freshman of the year, sophomore middle hitter Courtney Rehm.
To build camaraderie and discuss goals for the upcoming season, team members traveled to Sleeping Bear Sand Dunes where they partook in team and relationship building activities. The Bulldogs have taken part in this trip for the past several years and see it as a useful tool in bringing the team together.
"It helps us get acquainted with each other and talk about our expectations not only on the court, but also in the classroom and in the community. There are 18 girls on the team but only six allowed on the court at a time. It is imperative to our success that everyone understand their role," Brecht said.
The GLIAC is one the most competitive conferences in the nation with two teams, nationally 10th-ranked Hillsdale College and nationally 14th-ranked FSU, finding themselves ranked in the 2012 American Volleyball Coaches Association Division II Preseason Top 25 poll.
"We can only control ourselves," Captain Kara Hess said. "We don't worry about what other teams are doing. We have been practicing hard all preseason and expect to dominate from the beginning. When I first got here, we hoped to win; now we expect to."
The Dogs begin play Aug. 31-Sept. 1 as they host the Ferris State Invitational. The season kicks off at 4 p.m. with a game against Alderson-Broaddus of West Virginia. The Dogs will play again at 7 p.m. against Mercyhurst of Pennsylvania. The Bulldogs will face West Virginia State and Clarion (Pa.) Sept. 1 at 1 p.m. and 5 p.m., respectively.
Students and faculty alike are encouraged to come out and show support for one of FSU's most successful sports programs.