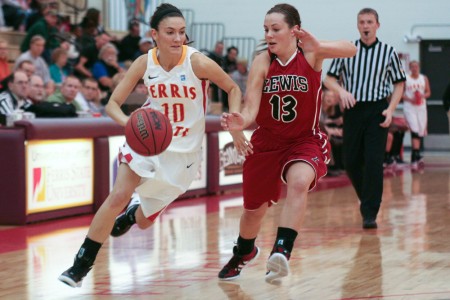 Colleen Lamoreaux-Tate stepped up to the podium with family and fans crowding Jim Wink Arena to formally accept the Ferris State women's basketball head coach position.
Former FSU head coach Tracey Dorrow said her goodbyes to the Ferris women's basketball program after coaching for 14 years and leading the Bulldogs to a Great Lakes Intercollegiate Athletic Conference North Division title last season. Dorrow has accepted the position of head coach for Valparaiso University (Ind.) for the new year.
Coach Lamoreaux-Tate (Lam-roe-tate) wants to take the FSU program to a whole new level.
Describing her coaching style as "a little bit of Pat Summit and a little bit of Mike Krzyzewski," Colleen decided after 26 seasons of coaching high school basketball that she was ready to make the leap to the collegiate level.
After more than a quarter century coaching at the high school level, Colleen left women's high school basketball as one of the most successful coaches of all time.
Previously the girls' basketball head coach at Grand Rapids Catholic Central High School, Lamoreaux-Tate accumulated 167 wins in the past seven years, a 2010 state championship and was named the Grand Rapids coach of the year three separate times.
After having much success at the high school level, the timing couldn't be better for Lamoreaux-Tate.
"I had other chances to coach at the collegiate level, but there was always a player I had to stay for, and my oldest daughter just graduated this past year, so I decided it was the right time," she said.
Without a doubt, the high school game is different from the college game; however, the change doesn't bother her.
"I've always been privy to a lot of great athletes in high school, and now instead of having three or four college level players, I have 12 of them," Lamoreaux-Tate said.
When Lamoreaux-Tate was hired as the new Bulldogs' head coach, she called old time friend Charlette Muller who was the head coach at Grand Rapids Christian High School to offer her an assistant coaching position on the staff. Muller accepted this position and the chemistry between these two coaches in impeccable.
"She's amazing, she reads me," Lamoreaux-Tate said. "We complement each other very well. If I come down a player to hard she can soften the blow and turn it into encouragement. Sometimes I may be too direct, so she [Muller] can put it into words what I really am trying to mean."
Lamoreaux-Tate who was a former player at Lake Superior State and Aquinas College, looks to bring the women's basketball to new heights, even further than the historic season the Bulldogs had in 2012.
"I want to stay number one in the GLIAC, but not only that I want to win the national title," Lamoreaux-Tate said. "My mindset has always been I don't only want to be the best in the area, I want to be the best
overall."