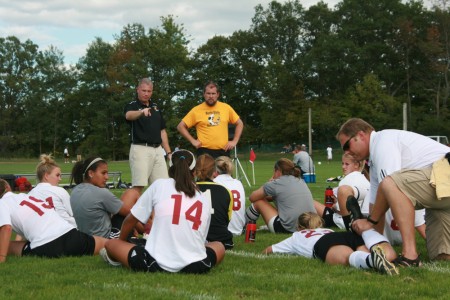 When you lose your leading scorer, it's not likely that your team will improve. The now graduated Bri Borgman finished last season with 10 goals, which accounted for 50 percent of the team's total scoring last season.
The season ended with a disappointing 1-0 loss to Ashland in the Great Lakes Intercollegiate Athletic Conference Tournament Quarterfinals, a game in which Ferris State condignly outshot Ashland 11-4. But all Ashland needed was Lexi Gruich's goal in the 53rd minute to put the game away.
While the top players don't match Borgman's goal production, they each bring just as impressive abilities to the team.
FSU junior Captain Amanda Foster led the team in minutes played last season as she finished with 100 more minutes than any other player on the team. The "Ironman" of the club brings durability and consistency to the team.
"I would have to give the credit to the rest of my team. They are the ones that are pushing me and helping me get better every day," Foster said. "If it weren't for their work ethic, I wouldn't be getting better and I wouldn't be able to stay in the match that long."
Coming back as a junior, Rachel McCollum statistically stands as one of the greatest goaltenders in Ferris State women's soccer history.
"I worked very hard over the spring season and the summer," McCollum said, "so I definitely believe that I can continue to improve on my numbers from last year."
As a freshman, McCollum posted seven shutouts, a single-season record for a Ferris State goalie. She put up six more shutouts as a sophomore to help drop her career goals against average to 1.05 per game. She sits in the top 10 in nearly every statistical category for goaltenders at Ferris State.
McCollum's durability has been key to the success of the team over the last two seasons. She has been the No. one goaltender both seasons, missing just one game last year.
The team opens their season against Indianapolis at the Grand Valley State Kickoff Tournament Aug. 31.
Preseason tournaments tend to be a good evaluation of the game skills of the newcomers. Ferris State brings in 10 new players to the field this season, and they have little time to ready themselves for the opening tournament.
"That first weekend is usually a rough weekend," FSU's Coach Matt Kellogg said. "We have 10 new players this season. They have a lot to learn before then, more concerned about the process."
Despite all of the changes, the team plans to begin the season as though they have something to prove, especially in their own conference.
"I am most excited to play GVSU and Northern," McCollum said. "The second time we played these two teams last year we lost by one goal in both games, so we have a chip on our shoulder and we want to redeem ourselves."
Not only do the Bulldogs plan on making a dent in their conference standings, but also in the NCAA. Foster believes the team is ready to make a big move.
"My expectations for the season are to make the NCAA tournament and finish in the top three," Foster said.
Ferris State's home opener is Friday, Sept.14 against Ohio Dominican, who they played to a 1-1 tie last season.