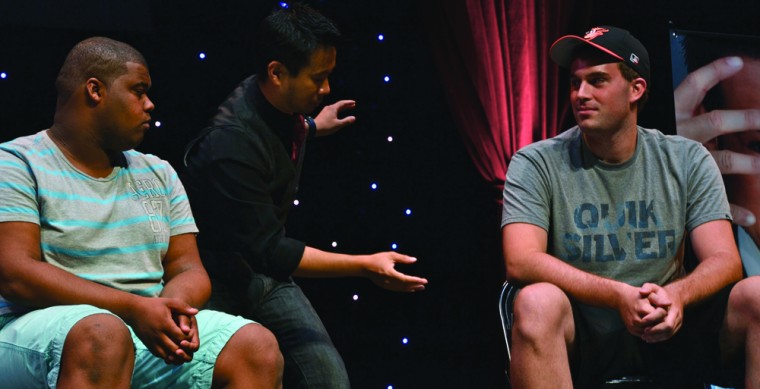 Amazing, mind-blowing, and memorable are just a few words students used to describe magician, illusionist and comedian Joseph Tran.
Tran performed for a packed house at Williams Auditorium Thursday, Aug. 30.
"I've seen magic shows before, but this one was a lot different. He did a lot of interesting things with cards that I've never seen before, and he brought a lot of people from the audience up," Georgina Leigh D'Hondt, sophomore in the criminal justice program, said.
The audience was alive with excitement and anticipation, eagerly waiting for each trick as Tran enlightened the audience with not only his magic, but his comedy.
"The crowd was awesome. I love Ferris. When I feel your energy, I give all that energy back tenfold," Tran said.
The Hollywood native and former stuntman of the red power ranger had the audience captivated within moments by the use of a fake accent he phased out after some quizzical looks.
After warming up the crowd with some less than real magic tricks that had the audience second guessing his talent, Tran wowed the crowd when he cut a string into different pieces, rolled the pieces into a ball and unraveled them connected once again.
He then went on to perform various tricks with different members of the crowd. One audience member's mother was called for a long distance magic trick. He crushed a balloon animal for another student and then made it reappear, and one woman was called to the stage to hold on to an upside down water bottle that retained all of its water.
Tran finished his show with a bang. After swallowing a clump of 15 to 20 needles and a string, he pulled them all out in a perfect line. The audience reacted with a standing ovation.
"I have no idea how he did it [pulled out the needles], and it just really amazed me. I usually like to figure out how they do it, but I have absolutely no idea how he did," pre-optometry freshman Becca Weinberger said.
The students at Ferris are not the only ones who have been impressed by Tran's magic. He was chosen by peers as the Magician of the Year in one of the most prestigious magic academies in the world.
Despite all the praise for his magic, Tran's favorite memory from the show was the amusement of the audience at his dancing.
"You all went buck wild," Tran said.
Many students' favorite part of the night came after the show when Tran made his way to the lobby to sign autographs for his fans and pose for pictures.
Tran said, "The best part is to meet so many people firsthand. I love meeting people and seeing how they enjoy the show and what their favorite parts are. I'm lucky enough to get to travel for this." n