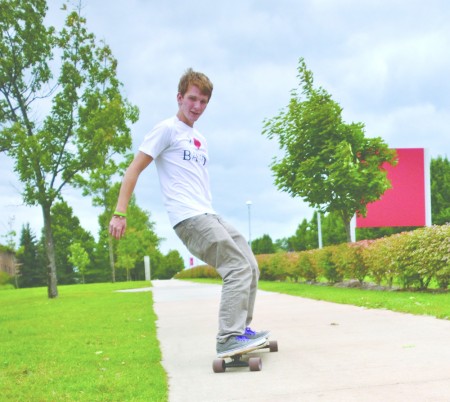 We've all been there, walking to class while a skateboarder flies past you, weaving in and out of crowds of students. But do they know their simple act of gliding on wheels is illegal on campus?
Well-known or not, there is a policy that bans any form of skateboarding on campus. According to ordinance 5.4a, "The use of any skateboard, rollerblades, roller skates, coaster, scooter or similar wheeled devices is prohibited on any sidewalk, public parking area, roadway, alley, street or other area open to the general public."
Captain Jim Cook with the Department of Public Safety says the policy has been in place since he began working for DPS 22 years ago.
"The problem is they [skaters] don't mix with pedestrians very well on a sidewalk. There are no brakes on any of them. Because of the public safety side of it, they are just not good to have out there," Cook said. "They don't mix well with cars out on the street because if a person on a longboard collides with a person in a car, the person on the longboard is going to lose."
DPS has been making an effort to let students know about this policy by continuing to have educational conversations with them. Although there has been rumor about tickets being distributed, Cook said that is something they would like to avoid.
"The last thing we want to do is resort to writing tickets. We have that option, but we don't want to write tickets for that kind of stuff," Cook said. "We just want people to not do it so that we don't have an issue."
Spencer Crittendon, a Ferris junior in biotechnology and skater himself, thinks students should be able to skate on campus under certain circumstances.
"I believe all who wish to skateboard or longboard on campus should be required by DPS to sign a waiver releasing Ferris from all liability to possible injury," Crittendon said. "There should be a type of card, wallet sized, signed by both a DPS officer and the student stating that they have signed the waiver. It would be used in the case of someone being stopped by DPS; they would show the card to the officer, recognizing that all liability is on the student, and be on their way."
Crittendon also believes there should be specific times or paths on campus that cannot be used for skateboarding or longboarding purposes in order to decrease the number of potential accidents.
However, Cook said there needs to be a specific place for skaters to use their equipment off-campus.
"The city of Big Rapids has looked at putting in a skate park, and it would be nice if they did something like that because then people who have skateboards would have a place to go use them," Cook said. "But as it currently stands, there isn't a place for them to use them, so until a skate park would result, they simply have no place here on our campus."