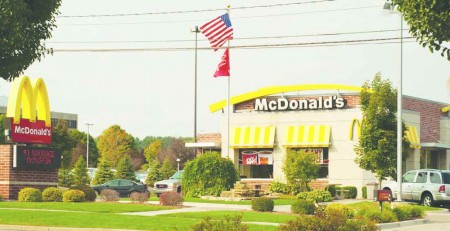 The days of mindlessly chowing down on a Big Mac may be gone forever.
Starting this week, calorie counts will be posted on McDonald's menu boards across the nation. McDonald's said it will replace all inside and drive-through menus at its more than 14,000 U.S. locations with new signs which will include nutritional details. According to the fast-food giant, this move is in response to growing customer demand.
In some cities and states, menu-labeling is already required. Last year, California mandated restaurants with 20 or more locations to put calorie counts on menus.
Ferris senior in business administration Kelsey DeNoyelles said she eats at McDonald's only once every couple of months. Drawn in by the price and convenience, when she does eat there, she usually orders either the chicken nuggets or the McDouble.
"I think it's good [that McDonald's is including calorie counts on their menu]," DeNoyelles said. "Now you'll be able to see how many calories you're eating. I think it will affect people's decisions when they go to order."
By posting nutritional details on their menu, McDonald's is acting ahead of pending federal rules. National menu-labeling is part of President Obama's 2010 healthcare reform law. The expected debut of the menu-labeling provision has been pushed from last year to later this year or early 2013.
Several health care advocates criticized McDonald's for attempting to make an inevitable requirement look like a voluntary decision.
"McDonald's is setting the tone that it's a leader when the reality is that there's an incredible amount of pressure being generated from a broad coalition of parents, health professionals and more that's really forced the company to take action," Sara Deon of the advocacy group Corporate Accountability International said in an interview with the Los Angels Times.
Posting calorie counts is not McDonald's first move toward a healthier image. In 2011, the chain began adding a serving of fruit or vegetables to all Happy Meals while shrinking the amount of French fries. In addition, McDonald's recently announced it was exploring more "better-for-you" options such as seasonal produce, grilled chicken, McWraps starting at 350 calories and a version of the Egg McMuffin made with egg whites and a whole grain muffin.
"We've made a lot of good progress toward our nutrition commitments and we recognize there's still more to do," Dr. Cindy Goody, McDonald's senior director of nutrition, said in a statement.
DeNoyelles said she would consider eating at McDonald's more often if the chain offered healthier options.
"When I want to eat healthy fast-food, I usually go to Subway or Jimmy John's. But if McDonald's had better choices, I'd definitely give them a try," she said. n