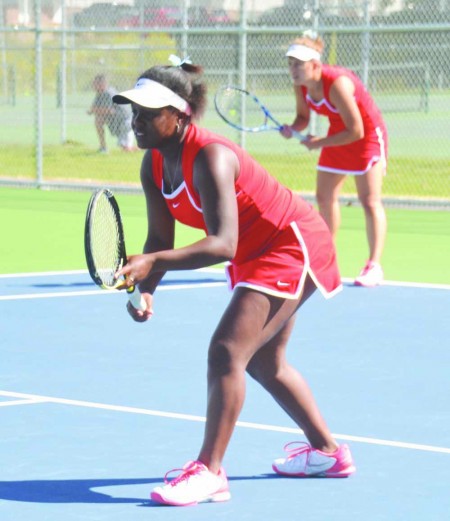 The Bulldogs walked in with a plan and executed it to perfection, as they swept The Albion Britons 9-0 last weekend for their first victory under Head Coach Chad Berryhill.
"We have so much to look forward to this season," Tyler Marengo said. "We filled last year's home with players that were just as good."
The team is aiming high right out of the gates, according to Marengo. They plan on playing in The Sweet 16 next semester.
The team members credit their high level of conditioning to their fresh legs on the court to open the season. They train as early as 6:30 a.m. during the school week 8 a.m. on Saturdays.
"They know they need it," Berryhill said. "They commented and said that they felt like they were getting tired in the third set last year. Our goal is to get them feeling like they are playing in the first set."
The conditioning regimen has the team feeling the benefits after their first match.
"Everyone feels great physically, and this match was a good warm up for the ITA tournament in two weeks," Marengo said.
Marengo won his match 6-0, 6-0 over Steve Nawrocki. No. 1 singles player Laurent Galarneau added another one of Ferris' six singles victories as he defeated Eric Guindi 6-1, 6-3.
Ferris junior Otto Keresztes and senior Razvan Mag won their No. 2 doubles match 8-0 over Brandon Kosinski and Nawrocki.
Next, the men's team will travel to Indianapolis for the ITA Regional Tournament where the team will get a chance to see all of the teams in the region, including the team that ended its season last year.
"They'll get to see Drury, the team that kept them from the round of 16 last year," Berryhill said.
While the men competed against Albion, the women held their own as they swept new conference member Malone and won 8-1 over Walsh College Sept. 16.
"I think we did well. Each match got a little tougher as we went on," Berryhill said. "It's good to get some wins under our belt going into Northwood on Tuesday; they've been a rival to us."
The victory moves the women to 5-1 in league play this season.
The team has flourished under Berryhill, as he runs an intense conditioning-oriented practice.
"I'm really happy that we got a chance to be coached by Berryhill," Ferris junior Ana Jan said. "That was a big change for us. We work hard, and I'm sure that our results will show that."
Jan is now in her second year at Ferris State out of Croatia. Since coming here, Jan has taken the No. 1 singles spot and has even become the face of the women's team, according to Berryhill.
"In Europe, we don't have college sports," Jan said. "School was always important to me, but I wanted to continue with tennis. That is the reason why I chose to come to the states."
Jan isn't just here to get a degree and play tennis; she plans on winning while here.
"Northwood has won our conference many years in a row," Jan said. "They are confident, but we are improving every day. I'm sure that with the help of our new coach, we will be able to bring home the conference banner."
In the Malone match, Jan defeated Asia Harris 6-2, 6-3 in No. 1 singles, while Ferris sophomore Laurence Leblanc defeated Kim Knisley 6-4, 6-1 in No. 3 singles.
Junior Sydnie Sine and freshman Janie Sell defeated Asia Harris and Marie Konstan in No. 3 doubles 8-2 to cap off the day.
Women's tennis plays today at home against conference rival Northwood at 2 p.m.