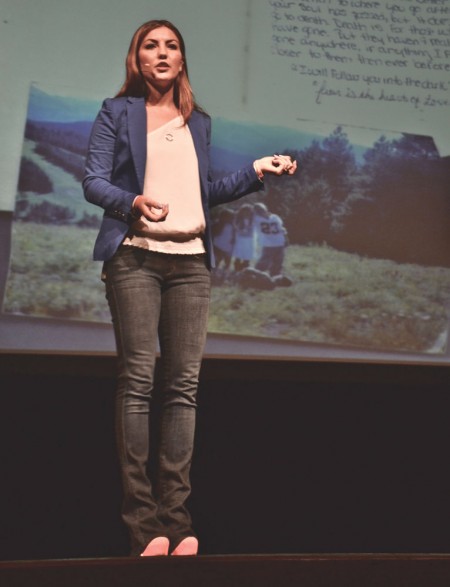 "Don't drink and drive" is an easy enough thing for anyone to say. Julia Garcia showed why professionals are hired to get that message across.
Speaking to a largely student-based crowd last Wednesday at Williams Auditorium, Garcia utilized audience participation, spoken word poetry, music and technology to put a different, more lasting spin on a topic usually covered with a finger-waving, parental lecture.
Despite a somewhat lethargic crowd early on, technical difficulties with the early polls and some folks who thought they were funny in the later ones, the presentation was structured in a manner that had it growing stronger toward the end.
Running throughout the presentation was "tru," Garcia's own word and movement that she was inspired to dedicate herself to full-time a few years ago. Ranging from spoken crowd approval of a statement's honesty to the idea of "being tru to yourselves," "tru" was Garcia's way of giving everything covered a label to remember, as well as a reminder of her own Internet presence on truality.org.
Garcia was open about her own experiences with alcohol—which included alcoholism, rehab, blackouts and rape—and later got the entire audience to be open to the room as well. A chilling and powerful moment included a sequence when, with the lights dimmed and Sarah McLachlan's signature song "Angel" playing, Garcia had the audience stand and face each other if they related to the statements she made.
Examples included things like "Please stand up if you or anyone you know comes from a divorced household" and "Please stand up if you or anyone you know has been drunk to the point of blackout."
The content of the questions escalated until the most poignant moment of the evening was reached. Garcia began with "Please stand up if you've gotten behind the wheel of a car and driven while intoxicated," followed with "Please stand up if you've ever lost a loved one from a drinking and driving accident." After, she told the crowd "Please remember all these faces."
Garcia used used key phrases and played with the composition of words. "Lose yourself or find yourself" was a frequent example of the former, and "impossible" becoming "I'm possible" was the most inspiring form of the latter.
Filing out after an hour of emotions alternating between the light-hearted and the emotionally draining, the audience seemed impressed.
"I thought it was very inspirational and interesting," Natalie Yuncker, Ferris first-year pharmacy student, said.
She wasn't the only one, as a crowd of people gathered around Garcia and the table filled with her books. More than a few people were deeply moved that night.