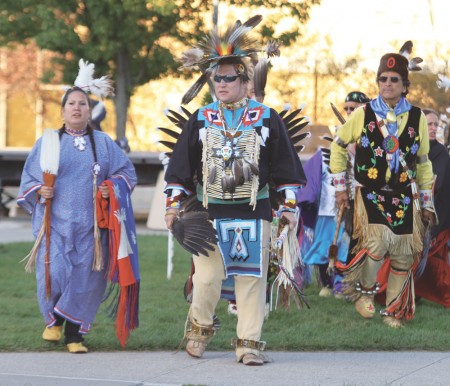 The beat of the drum, the chanting and the brightly colored feathers and bells command attention at one small gathering.
The first annual Fall Equinox Traditional Pow-wow was held in the North Quad Saturday, Sept. 22.
A pow-wow is merely a gathering, and there are different reasons why one takes place.
Dancers, drummers, singers and the public gathered together to honor the Fall Equinox. This event is celebrated as summer turns to autumn and the earth is in balance with the sun.
"We thought it would be interesting. I've never seen one before," Mary Karle, Ferris sophomore in marketing, said.
Michelle Sullivan, Ferris sophomore in nuclear medicine, added, "You don't see a pow-wow every day."
The hand drums took center stage inside the roped off circle. A couple different vendors for food and jewelry freckled along the outside edge, and a tee-pee stood off to one side. The public stood somewhere in between, circling the entertainment.
The event started off with a bang. The host drum started up and the traditional dancers started making their way around the circle. Afterwards, the crowd was asked to remain standing as they played the Flag Song.
From there they went on to honor the veterans, say a prayer to the creator and even encouraged the public to come and dance with the traditional dancers. As they took their meal break, a hand drum competition ensued with a first-place $200 prize.
"It was interesting. I've never seen anything like it before. I wish I knew more about it so I could understand it better," Karle said.
Ferris alumni Drew Harrington was the man behind the intricate tee-pee set up off to the side. He enjoys working with the Native American culture and says it should be remembered.
"The youth don't seem to know a lot about their culture. I think it definitely needs to be preserved, especially for the language," Harrington said.
Natalia Carvalho-Pinto, an academic advisor in the College of Health Professions, brought her daughter to the event to open her eyes to other cultures.
"I think it's important to seek culture. Ferris brings a lot of opportunities. This is just one of them," Carvalho-Pinto said.
This event was put on by the Circle of Tribal nations along with the Office of Multicultural Student Services and the Diversity Inclusion Office.
Michael Loyal and Crystal Jones were vendors at the event. They also believed this celebration could benefit the children.
"You're here because of who came before you. This is a way to carry on the tradition for the younger generation," Jones said.