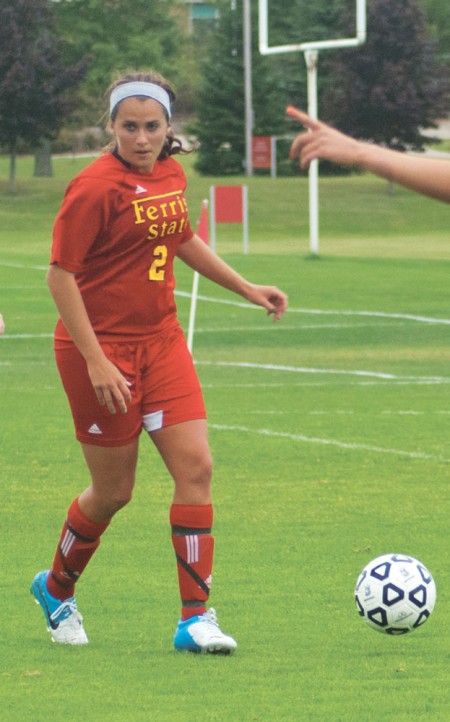 There isn't anything in sports that's quite like overtime. If the butterflies begin to bat around in your stomach going into it, just wait until you're near the end of the second.
Stephanie Garland and the Bulldogs women's soccer team were able to pull out a double overtime victory over Northwood Sept. 24, 2-1.
"We started off pretty slow, especially the first 25 minutes," Ferris head coach Matt Kellogg said. "But we've been improving and we held them off defensively for awhile and the players bought into it."
Northwood played stout on defense early, but once the Bulldogs were able to find their stride, they didn't look back.
"We had a little trouble adjusting to Northwood's style of play," senior midfielder Logan Declerq said. "But once we were able to figure that out, we got lots of opportunities."
Ferris sophomore midfielder Riley Wood opened the scoring with her third goal of the season 57 minutes into the game. Ferris freshman midfielder Casey Shauman tallied the assist on the goal and was later named player of the match.
"I always try to work my hardest when I step on the field," Shauman said. "The team helped me through good communication."
Leading by one in the waning minutes of the game, Northwood was able to crack McCollum with seven minutes remaining in regulation on Amanda Watson's sixth goal of the season.
"Obviously it was a bit of a disappointment," Kellogg said. "But between the staff and the players on the bench we just felt like we were going to pull it out. It was one of those games where we felt we would win; it was just a question of in regulation or overtime."
In all sports, overtime is one event that causes tension to mount, knowing that the game goes completely up for grabs in sudden death. Yet the Bulldogs seemed to have it all figured out.
"We all had a lot of energy going into overtime because we had been in that situation before and knew what needed to be done," Shauman said.
The teams battled through just over 15 minutes of maddening sudden death action when Garland answered the bell.
Ferris' freshman forward Nichole Boehnke was able to feed Garland the ball, allowing her to beat the goalie with a cross cage and snuck it inside the post.
"Honestly, it's kind of a blur," Garland said. "I just know that [Boehnke] was working her butt off against either a central defender or a midfielder and she was able to find me on the left side of field, and I hit a shot inside the far post."
The goal is Garland's second of the year, and her second overtime marker of the year as well.
"I have some good luck on my side, I guess!" Garland added.
Ferris picked up its third win in this dramatic fashion, and with players like Garland banking home multiple game winners, it seems as though the holes left by last year's team are being filled.
The Bulldogs battled Saginaw Valley State University Sept. 23 to a 1-1 double overtime tie.
Ferris' conference record stands at 2-2-1 as they prepare to challenge league new-comers Walsh College and Malone University Sept. 28 at 4 p.m. and Sept. 30 at 12 p.m., respectively.