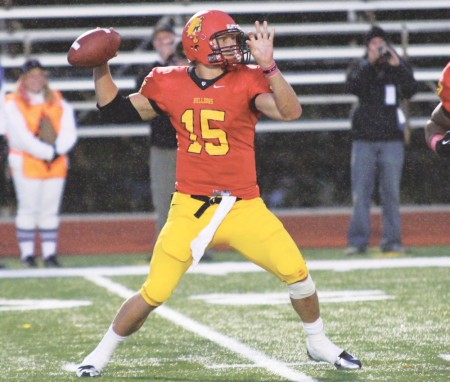 In New York, they have Sanchez and Tebow at one time; the Atlanta Falcons had Michael Vick and future pro Bowler Matt Schaub backing him up. But in Big Rapids, the Bulldogs have Taylor Masiewicz and Jason VanderLaan.
The dual threat under center is turning one-sided with an injury to Masiewicz's throwing shoulder. Masiewicz's primary role is a pocket passer, dropping back and throwing missiles downfield.
VanderLaan, a redshirt freshman from Frankfort, Ill., has shown the ability to not only go down the field with his arm, but also with his legs.
Growing up watching football, most fans of the sport think of the quarterback as the tough leader figure who bombs Hail Marys down the field with five seconds to go in the game.
While VanderLaan fits this profile, he's built like a linebacker. Standing an imposing 6'4" at 222 lbs. VanderLaan can not only bowl over secondary defenders, but outrun them too.
VanderLaan is the offensive leader in yards with 706; 294 of those yards have come on the ground, which is good for second on the team behind Ferris' senior halfback Skyler Stoker, who has only five more yards than him.
"On the field, he is a good runner, which makes the defense have to defend both of us, and it makes our play action that much more effective," Stoker said.
As a result, Ferris State sits at 3-1 after a victory over Walsh, in which VanderLaan played the whole game.
As a dual threat quarterback, VanderLaan sees that modeling himself after a high profile professional can work to his advantage.
"I kind of model myself after Tim Tebow," VanderLaan said. "But there are things in his game that I don't want to have."
VanderLaan went on to candidly mention Tebow's throwing issues in further conversation as things he didn't want to experience.
"But he's a good runner, he's a great leader in the huddle and he isn't afraid to show his faith," VanderLaan continued, "I respect that about him."
Even the coaching staff has made the Tebow comparisons in relation to VanderLaan.
"He's big and tough, not afraid to run downhill," quarterback coach Ryan Brady said. "At 230 pounds, he's our Tebow."
Where the two differ is in VanderLaan's ability to throw the ball downfield.
"He's got all the tools and attributes you look for in a quarterback," Brady said. "He's got a great arm, and he's a great kid who does the right things all the time too."
VanderLaan averages ten yards per pass with 412 yards and three touchdowns through the air so far this season.
In a week three loss to Ashland, the Bulldogs came out of the locker room after half time down 23-0. VanderLaan led a charge toward a comeback, rushing for 75 yards, adding a touchdown pass on 144 yards through the air, bringing the Bulldogs back within a touchdown and a two-point conversion three times.
Perhaps adding brightness to the future of the program is VanderLaan's relationship with his coaches in just his first year on the field.
"I'm really good friends with them," VanderLaan said, "It's a way better relationship than I've had with coaches in the past. Annese is very approachable; he wants all of your questions to be answered."
The fact that the rushing attack has flourished under first year head coach Tony Annese is taking pressure off of the quarterbacks, as the Bulldogs have rushed for 1151 yards through four games.
This has allowed VanderLaan to sit back and pick his spots, though Brady admits that this is an area of his game that needs to improve.
"He needs to work on taking care of the ball and not always go for the home run play," Brady said.
All things considered, VanderLaan has three more years of eligibility, and the way the chips are falling now, it could be a fun three years to be a Bulldog football fan.