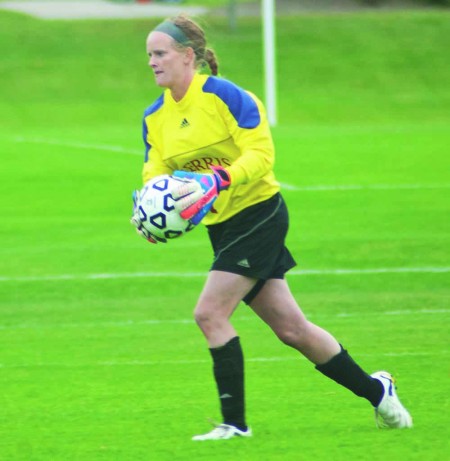 Entering her third year at Ferris, Rachel McCollum leads the 2012 Bulldog's soccer team into action as the primary goalkeeper.
The Bulldogs have had plenty of tough grind-it-out games early on; through the first 10 games of the season, five have been decided in double overtime. That grind-it-out mentality all starts in net with the goalkeeper.
What people don't get to see of Bulldog athletes is the behind the scenes action and how student athletes manage being successful not only on the field, but also off of it. Whether it's eating peanut butter and jelly sandwiches or going sky diving, McCollum has to lead by example.
Before every game McCollum starts her pre-game ritual of eating peanut butter and jelly sandwiches. Whether or not the protein in the PB&J sandwiches has anything to do with her play on the field is unknown, though she holds the second most saves in the Great Lakes Intercollegiate Athletic Conference with 51 saves through 10 games.
McCollum's performance on the field may not seem as important as how she does off of it. McCollum majors in pharmacy at Ferris, which requires enough of a time commitment in itself that it's hard to imagine how she has enough time in the day to be a goalie too.
"It's difficult; you just have to be dedicated and just have to make sure your priorities are in order," McCollum stated.
Having priorities allows somebody to be successful and McCollum has shown that as she works her way through her 16th year of playing soccer. She managed 10 shutouts en route to being named first team All Kensington Lakes Athletic Association in her senior year at Grand Blanc High School.
The success didn't stop there for McCollum; her effort in high school led to a scholarship at Ferris and she has started in 37 matches since joining the team.
McCollum holds a .824 save percentage and led the GLIAC conference in shutouts her freshman year with seven, but why did she start playing soccer and why did she want to play goalkeeper?
"I started playing soccer when I was around five years old because I used to run around the field after my older brother's games," McCollum said. "I just always loved [goalie] because if you make a mistake there is nobody there to back you up."
The thrill of the added pressure also came when McCollum had a once in a life time experience; the goalkeeper went sky diving.
"It was the coolest thing I have ever done. It was the craziest thing I've ever done!" McCollum said.
When not jumping out of planes or blocking shots, McCollum's biggest passion in life is helping people and brightening people's days.
McCollum not only gives support to her teammates on the field who are making shots, but also to others after the game if they are not in the greatest mood–which defines a true team player.
You can see McCollum and the rest of the Bulldogs as they take on Grand Valley State University in their next match Oct. 6 at 12 p.m. in Big Rapids.